Sapphire **** (1959, Nigel Patrick, Michael Craig, Yvonne Mitchell, Paul Massie, Bernard Miles) – Classic Movie Review 5057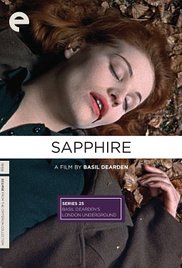 Director Basil Dearden's pioneering issue-led 1959 British murder thriller stars Nigel Patrick, Michael Craig, Yvonne Mitchell, Paul Massie, Bernard Miles, Gordon Heath, Earl Cameron, Olga Lindo, Rupert Davies and Peter Vaughan. Dearden won the 1960 BAFTA Film Award for Best British Film.
Sapphire Robbins (Yvonne Buckingham), a pregnant mixed-race art student, is killed and a London police superintendent (Nigel Patrick) and police inspector (Michael Craig) investigate her murder in this little gem of a socially-conscious thriller.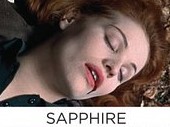 Sapphire's white boyfriend David Harris (Paul Massie) is under suspicion of the killing and so are his vaguely racist parents (Bernard Miles, Olga Lindo), as well as a gang of black youngsters. Strangely enough, London is a hotbed of racial tensions and prejudices.
Dearden's movie is very much of its time, and now dated, but not faded. For it is still a tense, engrossing and revealing British movie, concentrating as much on the issues as the thriller elements, both entirely successfully.
It was of course very brave film to make in its day, and the team are up for it to make it work. It is tightly directed by Dearden and honourably written by Janet Green, with additional dialogue by Lukas Heller. The film is a great credit to the Michael Relph – Basil Dearden producer-director team.
Also in the cast are Jocelyn Britton, Harry Baird, Orlando Martins, Freda Bamford, Victor Brooks, Robert Adams, Philip Ray, Richard Vernon, Basil Dignam, Nora Gordon, Dorothy Gordon, Lucy Griffiths, Desmond Llewelyn and Fenella Fielding (in her film debut as the lingerie shop manageress).
John Richardson, Barbara Steele, Philip Lowrie and Susan Stranks all play students.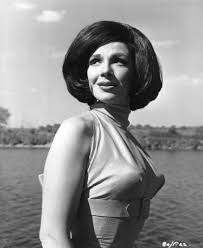 Fenella Fielding is 90 on 17 November 2017. She is known for Carry On Regardless (1961) and, especially, Carry On Screaming (1966).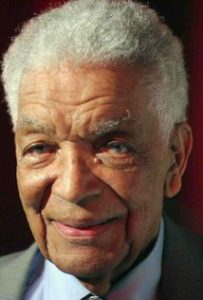 Earl Cameron is 100 on 8 August 2017.
© Derek Winnert 2017 Classic Movie Review 5057
Check out more reviews on http://derekwinnert.com