Ryan's Daughter *** (1970, Robert Mitchum, Trevor Howard, John Mills, Sarah Miles, Christopher Jones, Leo McKern) – Classic Movie Review 901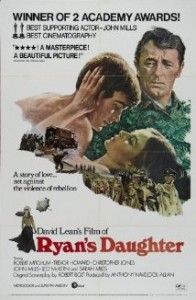 Director David Lean's grand and great-looking but slack-paced and limited 260-minute epic 1970 romantic period drama, set in Ireland in 1916 in the wake of the Easter Rising, is planned to be huge in every way. Sarah Miles stars as a married woman in a small Irish village who has an affair with a troubled British officer (Christopher Jones).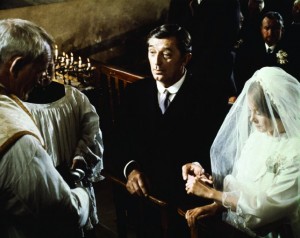 They click at once the day they meet when he's the only customer in her father's pub and she's tending bar for the first time since her marriage to the village schoolmaster. More trouble comes on a stormy night when Irish revolutionaries expecting a shipment of guns arrive at Ryan's pub.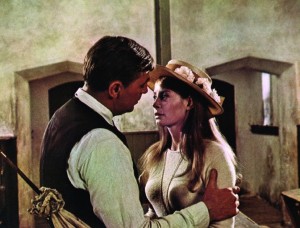 Ryan's Daughter is evidently intended as a classy night out at the cinema, a worthy successor to Lean's Doctor Zhivago. It is designed for the vast acres of the 70mm screen, and is piled high throughout in ace cinematographer Freddie Young's glorious panoramic views of Irish beaches, storms and sunsets. Young deservedly won an Oscar for his brilliantly eye-catching cinematography.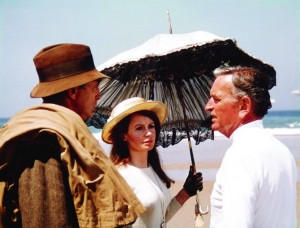 But Robert Bolt's original screenplay story just won't go big. It is an intimate epic blown up out of all proportion. That is the contradiction and central flaw in the film.
Yet it still entertains considerably thanks to Lean's determination and imagination, as well as to the impressive efforts of a distinguished cast headed by Miles as the excitable heroine Rosy Ryan, Robert Mitchum as Charles Shaughnessy the teacher she marries, Leo McKern as her father Thomas Ryan, Trevor Howard as the local priest Father Collins and John Mills, who won the 1971 Best Supporting Actor Oscar as the mute village idiot.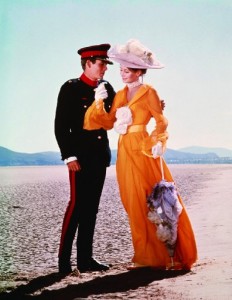 Miscast American visiting star Jones is properly handsome and dashing but he seems lost (and none too British) as Randolph Doryan, the shell-shocked British officer who starts an affair with Miles.
Jones and Lean had a difficult relationship, as production of the film took 12 months instead of the expected six when Lean waited for the right composition of clouds or the perfect storm. Afterwards, Lean dubbed Jones's voice, giving him a bad reputation.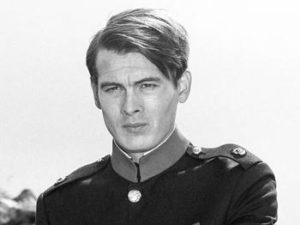 Troubled actor Jones quit movies after Ryan's Daughter but ended up a victim of Sunset Strip drug culture and became reclusive and eccentric. However he did painting art deco, and Roman classical sculpting in clay, while enjoying a family life at the beach with his children.
He refused a role in Quentin Tarantino's Pulp Fiction (1994), but did film just once more in Trigger Happy [aka Mad Dog Time] (1996). He died of gallbladder cancer on 31 aged 72.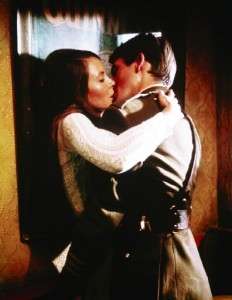 Lean said: 'Mitchum can, simply by being there, make almost any other actor look like a hole in the screen.'  And, indeed, Mitchum gives the film's finest performance, naturalistic and credible.
You could try the cut version, which comes in at a handy, condensed 176 minutes.
© Derek Winnert 2014 Classic Movie Review 901
Check out more reviews on http://derekwinnert.com