Running On Empty **** (1988, River Phoenix, Christine Lahti, Judd Hirsch, Martha Plimpton, Ed Crowley) – Classic Movie Review 4093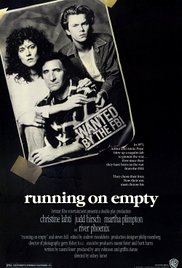 Director Sidney Lumet's thoughtful and intelligent 1988 thriller stars Judd Hirsh and Christine Lahti, who give ideal performances as counterculture couple Arthur and Annie Pope, married former Sixties radicals who blew up a napalm research facility factory in 1971 in protest at the Vietnam War, accidentally blinding and paralysing the janitor.
As a mark of quality, the film picked up two Oscar-nominations. Phoenix was Oscar-nominated as Best Supporting Actor and Naomi Foner was Oscar nominated for Best Original Screenplay and won the 1989 Golden Globe for it.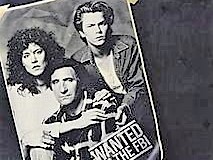 Condemned to lead a life running from the FBI, Arthur and Annie find their safety is threatened when their elder son Danny Pope (River Phoenix) falls for a tomboyish girl called Lorna Phillips (Martha Plimpton), whose music teacher father (Ed Crowley) offers him a chance to become a professional pianist by going to college at the Julliard music school.
Director Lumet draws out superb, fully fleshed-out acting from the whole cast, who are uniformly persuasive and touching. But it is young Phoenix's mature, Oscar-nominated performance that holds the powerful and affecting story together.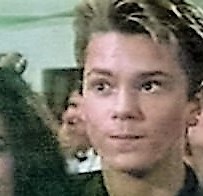 Running On Empty is a serious-minded, high-quality, totally compelling drama about love, survival and commitment, urgently told by liberal film-maker Lumet in long, forceful scenes, with built-in teen appeal.
Lahti's feisty turn won her the 1988 Los Angeles Film Critics' best actress award.
Also in the cast are Jonas Abry, L M Kit Carson, Steven Hill, Augusta Dabney and David Margulies.
Arthur and Annie Pope are loosely modelled on Weather Underground leaders Bill Ayers and Bernardine Dohrn and the characters' bombing of a napalm research facility is inspired by the Sterling Hall bombing of 1970.
Although it had Oscar buzz and Roger Ebert hailed it as one of the best films of the year, it struggled at the box office. It cost $3 million and earned back only $2,835,000.
© Derek Winnert 2016 Classic Movie Review 4093
Check out more reviews on http://derekwinnert