Rules Don't Apply **** (2016, Warren Beatty, Lily Collins, Alden Ehrenreich) – Movie Review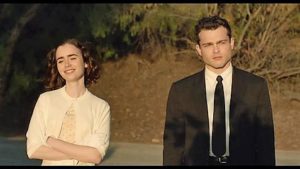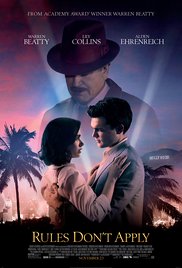 Warren Beatty's polished and thoroughly entertaining Hollywood romantic biographical drama stars Lily Collins and Alden Ehrenreich as a strict Christian aspiring young actress and her earnest, ambitious young driver, both trying to work round the eccentricities of their movie and aviation business boss, billionaire Howard Hughes (Beatty).
It is produced and directed by Beatty, in a total labour of love which took him around 40 years to get onto screen, and he also wrote the screenplay, as well as co-writing the story (with Bo Goldman). It is surprisingly revealing, both about Hughes and Beatty – but just don't look to it for facts of course. Beatty teasingly starts his film by quoting Hughes: 'Never check an interesting fact'. I haven't checked but I bet Hughes never said this.
Collins and Ehrenreich are charming, sharing good, strong chemistry as Marla Mabrey and Frank Forbes. Collins manages something of the young Elizabeth Taylor, while Ehrenreich manages something of the young Warren Beatty. And this is neat and nice. The film pulls off its trick of being both about them – and their relationship – and about Hughes – and their relationship with him. It also pulls off its trick of being both a nostalgia-fuelled romcom and Hollywood satire, while building a portrait of the ever-fascinating and elusive Hughes.
And of course it is an absolutely ideal, tailor-made role for Beatty, clearly enjoying himself, while amusing us. Beatty makes the role witty and funny. He plays the whole movie in the shadows, like Marlon Brando in Apocalypse Now. This both works and makes the point clearly, while allowing Beatty to play younger than his age. No problem.
And then also there is a large, loyal support cast of fine well-known actors playing secondary characters. It is only a shade disappointing that Matthew Broderick, Martin Sheen, Alec Baldwin, Candice Bergen, Ed Harris, Steve Coogan and Annette Bening get so little to do, because what little they have is special. Bening, for example, is outstanding as Collins's mother, so it is very disappointing when she leaves the movie.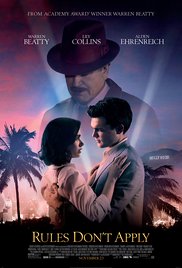 Like a spin in Ehrenreich's car, it is a very plush and smooth ride. The film looks great in Caleb Deschanel's cinematography and Jeannine Oppewell's production designs, with Albert Wolsky's costume designs the icing on the cake. It even looks like one of those vintage movies of the era, 1958 – 1964. The budget of $26,700,000 is all up there on screen.
So this is a sweet, nice, appealing and enjoyable movie – quite a success, not at all deserving of its tiny gross in the US of only $3,647,000 or of some snotty reviews it has attracted.
It is Beatty's first acting role since Town & Country (2001) and first time as director since Bulworth (1998). It is the first time Beatty and his wife Bening have appeared in a movie together since Love Affair (1994).
© Derek Winnert 2017 Movie Review
Check out more reviews on http://derekwinnert.com