Rough Night * (2017, Scarlett Johansson, Kate McKinnon, Jillian Bell, Zoë Kravitz, Ilana Glazer, Paul W Downs) – Movie Review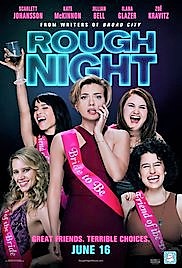 You're guaranteed a Rough Night in the cinema (or afternoon in my case) when five unfunny performances battle a laugh-free script about five women on a bachelorette party in Miami who hire a male stripper/ gigolo and accidentally kill him when the fat, randy one jumps on him. As the women have been snorting cocaine, they move the body and hide it in the sex swing, so their lawyer advises them to make it disappear fast. But how?
A dark, edgy comedy is in principle a welcome change of pace for Scarlett Johansson as political career girl Jess. But in practice she has taken a wrong turn by picking the wrong script by co-writer/ director Lucia Aniello, who must take the lioness's share of the blame here.
The other main brunt of the blame goes to co-scripter Paul W Downs, who also gives himself the main male role as Peter, Johansson's husband-to-be. His performance is loads worse than any of the star women's, but, hey, not the worst in the movie – that honour belongs to Ty Burrell and Demi Moore as the over-sexed swinger neighbours. They are truly awful, though again we can partly blame the script.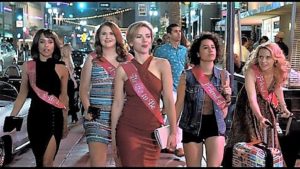 Here's an example. The five women are at the airport headed for Miami. Jillian Bell as Alice opens a bottle of champagne. The cork goes off with a bang. All the other passengers duck in fear of their life. Not funny! Then Bell says, oh maybe we shouldn't have done that at an airport. It sounded like a shot going off. So, a not funny joke, then two explanations of the joke. I rest my case.
Johansson is not really a funny person, while the funny charms of Kate McKinnon, Jillian Bell, Zoë Kravitz and Ilana Glazer are dubious. They escape me entirely. I don't get New Yorker McKinnon's Aussie bashing ('I have Australian dollars – they're stronger than US dollars') and Bell's attempts to ingratiate are grating. The lesbian bonding of the Kravitz and Glazer characters seems played for just a one-note joke.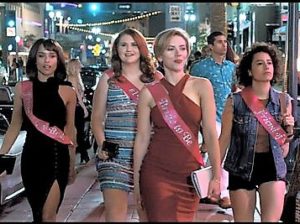 [Spoiler alert] Enrique Murciano and Dean Winters are terrible as the two blokes who turn up claiming they are detectives. But, sweet and sensitive as I am, I feel sorry for Ryan Cooper and Colton Haynes as the fake stripper and real one. All these roles are useless, and actor-proof.
All in all, this desperate, witless comedy is £10.45 and a couple of hours wasted. It just goes to show how funny the similar minded Girls Trip is. Those with longer memories or a good DVD collection will recall Weekend at Bernie's. That is how to handle a movie like this.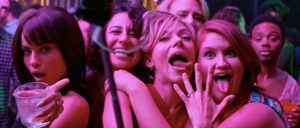 Don't believe anybody who describes this as a 'hilarious comedy', 'a great deal funnier than the majority of studio comedies' or a 'funny night out'. I'm sorry, any film that finds wine tasting stupid is just stupid. It's OK to love cocaine but turn your nose up at Italian wine, I don't think so, girlfriends.
The UK 15 certificate warning advice is that there is very strong language, strong sex references and drug misuse. In America, the Motion Picture Rating (MPAA) is R for crude sexual content, language throughout, drug use and brief bloody images.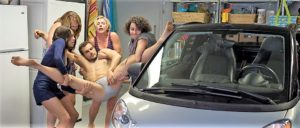 It was originally called the less generic Rock That Body.
It was shot at Long Beach, California, and the bars of Hermosa Beach, California, stand in for the film's Miami nightlife.
It was released in the US on 16 June 2017, and grossed only $22 million on a $20 million budget. The belated UK release is 25 August.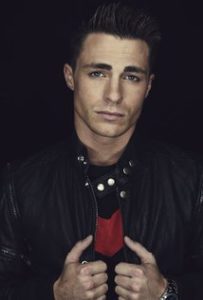 Colton Haynes, who plays the real Ryan, and played Jackson Whittemore in the TV series Teen Wolf and Joby O'Leary in San Andreas (2015), married floral designer Jeff Leatham in a Palm Springs ceremony officiated by Kris Jenner on 27 October 2017.
© Derek Winnert 2017 Movie Review
Check out more reviews on http://derekwinnert.com