Rope **** (1948, James Stewart, Farley Granger, John Dall, Cedric Hardwicke, Joan Chandler, Constance Collier) – Classic Movie Review 428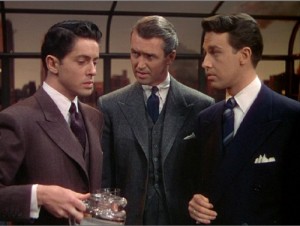 Alfred Hitchcock's slightly creaky but utterly compelling 1948 thriller, adapted from a stage play by Patrick Hamilton, the author of the play of Gaslight, is wearing well more than 60 years later. John Dall and Farley Granger star as Brandon and Philip, two well-heeled young men who share a New York apartment.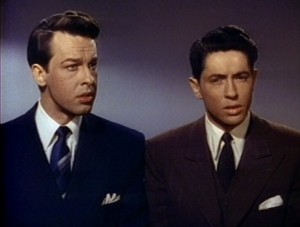 They consider themselves intellectually superior to their fellow student friend David Kentley and decide to murder him. Their motive for the crime is simply to see if they can get away with it. Together they strangle David with a rope and hide the body in an old chest placed prominently in the apartment, and then they proceed to hold a small party.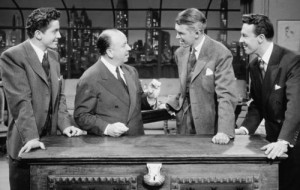 After a while, their old professor Rupert Cadell (James Stewart), and the boy's girlfriend (Joan Chandler) and father (Cedric Hardwicke) arrive and start to ask some very awkward questions. Cadell starts sniffing around…
Rope is notable for several choice elements: (1) the assured playing of Hitchcock favourite Stewart, Hardwicke, Dall and Granger; (2) the central focus in a 40s mainstream movie on a homosexual relationship, though of course a perverted, murderous one; (3) the risqué subject of two men killing for kicks; (4) and Hitchcock's bold experiment in filming in roughly 10-minute takes (though edited to look like one continuous performance) and all in one set with moving walls and the camera zooming into dark objects at each break.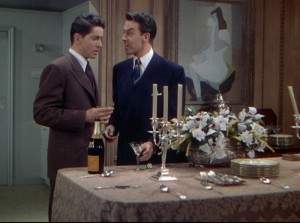 To be accurate, the film was shot in ten takes, ranging from four-and-a-half to just over ten minutes, the maximum amount of film that a camera magazine or projector reel could hold. Most of the props, and even some of the apartment set's walls, were on casters and the crew wheeled them out of the way and back into position as the camera moved around the set. Hitchcock later dismissed his experiment as a stunt, but then he said a lot of things.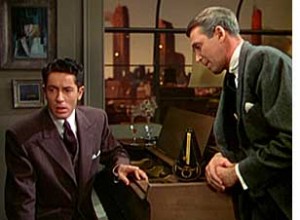 Also the film is supposed to run in real time like High Noon but, with its running time of 80 minutes, the story is actually about 100 minutes long. (But then High Noon didn't quite manage to run in real time either.) It's all filmed in the studio, except for the opening credit. The clouds seen out of the window are made of fibreglass.
The contrivances forced by the experiment mean that the movie doesn't quite run totally well or entirely smoothly. It's a highly artificial, claustrophobic experience. It's life but not as we know it. Far from being a turn-off, that makes this movie very fascinating. For, at the end of the day, in its slightly clunky way, it does still work very well, with an eerie power to entertain, unsettle and disturb. Indeed the result is almost as good as another similar Hitchcock stage adaptation, Dial M for Murder, and it also has clear links to Hitchcock's Strangers on a Train too.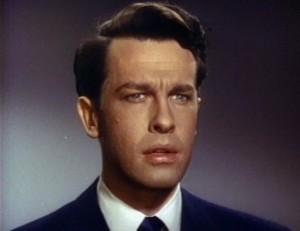 Dall is best remembered for his work here as Brandon, giving his most charismatic performance as the more confident and stylish of the two prep school killers.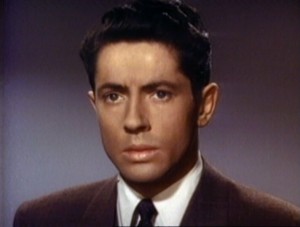 Granger is also first rate, giving a master-class in submissive, twitchy fear as Phillip, though this role is outshone by his portrayal of tennis player Guy in Strangers on a Train. Stewart is impressive, too, in an unusual role for him, kind of edgy, abrasive and none too charming, which has the unsettling result of helping to throw the viewer on the side of the killers. Hitchcock provocatively really ensures that you want them to get away with murder. The whole movie is about the mounting tension of that.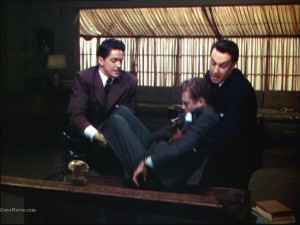 It's Hitch's first colour picture – and it looks a 'modern' treat, photographed by Joseph Valentine in superb Technicolor. This gave it the box-office clout it needed for its 1984 cinema re-release with the other 'missing Hitchcocks'. The film was unavailable for three decades because its rights (together with those for Rear Window, the 1956 The Man Who Knew Too Much, The Trouble with Harry and Vertigo) were bought back by Hitchcock and left as part of his legacy to his daughter Patricia.
Hamilton's play is based on the real-life 1923 Chicago Nathan Leopold – Richard Loeb killing for kicks case that also spawned the later movies Compulsion (1959) and Swoon (1991). It was adapted for the screen by Hitchcock's friend, the actor Hume Cronyn, along with Arthur Laurents and Ben Hecht.
The film was banned in a number of American cities because of the implied homosexuality of Phillip and Brandon. The film may perhaps seem a bit cosy now, but Hitchcock sure pushed the boundaries back in 1948.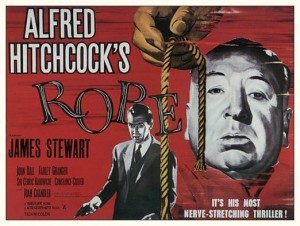 Gay actor Granger, who also appears memorably in Hitchcock's Strangers on a Train, said in 1999: 'Hitchcock never discussed with us the fact that our characters are supposed to be gay – although it seems very evident now. That sort of thing wasn't discussed in 1948. Hitch was great to work with. If you blew a line of dialogue, you'd always apologise profusely, but he'd just say "It's only a moo-vie."'
, aged 85. His long-time partner (since 1963), Robert Calhoun, collaborated with on his 2007 memoir Include Me Out: My Life from Goldwyn to Broadway. Granger said: 'I was never ashamed, and I never felt the need to explain or apologise for my relationships to anyone.'
, aged 92. He was artner during the 40s and part of the 50s, as revealed in his autobiography Original Story By, published in 2000. He was later also long-time partner of actor Tom Hatcher.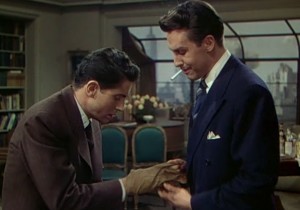 Ben Hecht wrote the script for Hitchcock's Notorious (1946) as well as Scarface (1932).
Dick Hogan's brief cameo as the opening scene's murder victim, David Kentley, is his last appearance in a film.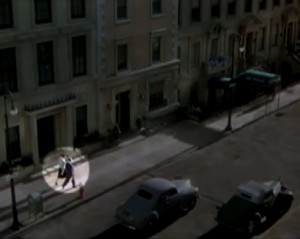 Hitchcock's cameo appearances are the hardest to spot in any of his movies. He appears walking down the street during the opening credits.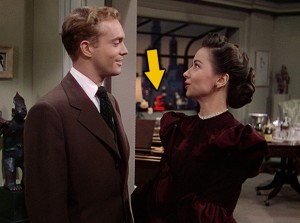 And his profile also appears on a neon sign visible through the apartment window advertising Reduco, the same fictional weight-loss product in his advert in Lifeboat (1944).
http://derekwinnert.com/strangers-on-a-train-classic-film-review-68/
http://derekwinnert.com/gaslight-1944-ingrid-bergman-charles-boyer-joseph-cotten-angela-lansbury-classic-film-review-1231/
© Derek Winnert 2013 Classic Movie Review 428
Check out more reviews on http://derekwinnert.com/