Room Service **** (1938, Groucho Marx, Chico Marx, Harpo Marx, Lucille Ball, Ann Miller, Frank Albertson, Donald MacBride) – Classic Movie Review 4410
Director William A Seiter's 1938 movie is an amusing Marx Brothers comedy, less zany and frantic than some of their earlier frantic farces, but still packed with funny sight gags and Groucho's witty one-liners. Despite being an adaptation of a popular Broadway show that slightly cramps their comic genius, this is still near-vintage Marx Brothers.
Its stars Groucho Marx, Chico Marx, Harpo Marx, Lucille Ball, Ann Miller, Frank Albertson and Donald MacBride.
The Brothers set up a play about miners in a desperate attempt to make some cash. Groucho plays the producer Gordon Miller, who has Harry Binelli (Chico) and Faker Englund (Harpo) as his staff. Harpo knocking back food like a robot and chasing a turkey, and Chico's check suit are among the highlights, though Chico does not play the piano or Harpo the harp.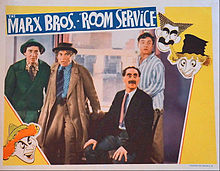 In the only Marx Brothers film that was not written specifically for them, Morrie Ryskind's screenplay is based on a stage play by John Murray and Allen Boretz, showing its theatrical origins. Its plot centres on the Marx Brothers trying to put on the stage play Hail and Farewell, produced and funded by mysterious backer Zachary Fisk, while evading paying their hotel bill as they have run out of money. So they pretend the play's author has contracted a terrible illness and cannot be disturbed.
Room Service may be flawed by being stagebound and marred by some under-par comedy support, but the Brothers still entertain energetically and the movie still amuses greatly.
Also in the cast are Philip Loeb, Cliff Dunstan, Philip Wood, Alexander Asro, Charles Halton, Stanley Blystone, Bruce Mitchell, Frank Otto and William Ruhl.
Ann Miller was only 15 years old, having got a fake birth certificate when she was 14, stating she was 18, just before signing a contract with the RKO studio. She was discovered by her co-star, Lucille Ball.
On a $884,000 budget, it grossed $875,000, unfortunately recording a loss of $330,000.
© Derek Winnert 2016 Classic Movie Review 4410
Check out more reviews on http://derekwinnert.com