Rollercoaster *** (1977, George Segal, Timothy Bottoms, Richard Widmark, Susan Strasberg, Harry Guardino, Henry Fonda) – Classic Movie Review 5425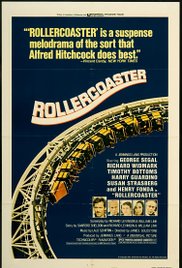 Director James Goldstone's 1977 movie is a smooth-running, fast-paced typically Seventies disaster-movie thriller, produced by Jennings Lang and released by Universal Pictures.
It stars George Segal and Richard Widmark as safety-inspector Harry Calder (Segal) and FBI agent Hoyt (Widmark), who are desperately trying to stop a young blackmailing mad bomber (Timothy Bottoms) from destroying an American amusement park.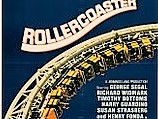 The bomber is blackmailing various companies by threatening to sabotage roller-coasters at American amusement parks with home-made radio-controlled bombs unless he is paid a huge ransom. When the police give him UV-marked money, he plots revenge by placing a bomb in a rollercoaster at the year's most important amusement park event.
It also stars Susan Strasberg, Harry Guardino, Henry Fonda and Helen Hunt.
Appealing performances from stars Segal and Widmark and the supporting actors, a good disaster-movie set-up and crisp dialogue from the Richard Levinson – William Link writing team, fine action and a nail-biting finish turn this admittedly fairly implausible idea into strong entertainment.
It was originally screened in theatres in Sensurround, where the whole cinema vibrated spectacularly at moments of crisis.
Also in the cast are Dorothy Tristan, Harry Davis, Stephen Pearlman, Gerald Rowe, Wayne Tippit, Michael Bell, Charlie O'Donnell, Lonny Stevens, Tom Baker, Ava Readdy, Craig Wasson, William Prince, Dick McGavin, Quinn K Redeker, Harry Basch, Arthur Peterson, Richard Altman, Gloria Calomee, Robert Quarry (Mayor), Monica Lewis and Dick Wesson (Tourist Mother and Father).
It is shot in widescreen by David M Walsh, scored by Lalo Schifrin and set designed by Henry Bumstead.
Monica Lewis, who also appeared in Earthquake, Airport 1975 and The Concorde — Airport '79, died on 12 June 2015 of natural causes, aged 93.
© Derek Winnert 2017 Classic Movie Review 5425
Check out more reviews on http://derekwinnert.com