Rogue Male ***½ (1976, Peter O'Toole, John Standing, Alastair Sim, Cyd Hayman, Harold Pinter) – Classic Movie Review 4911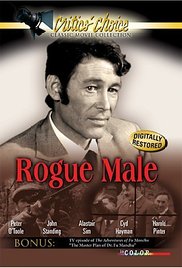 Peter O'Toole is ideally cast and gives a powerful performance as Captain Robert Thorndike, the resourceful, upper-class Englishman who sets out to shoot Adolf Hitler early in 1939.
O'Toole gives a strong boost to director Clive Donner's rousing 1976 British TV movie version of Geoffrey Household's classic thriller novel Rogue Male, previously filmed by Fritz Lang as Man Hunt (1941).
The hunter Thorndike fails in his attempt to assassinate the dictator when he misses his shot with a high powered rifle, and is captured and tortured by the Gestapo, though escapes back to England, where enemy agents and police hunt for him.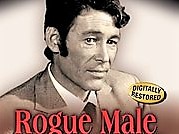 Frederic Raphael's expert script keeps the special chilly flavour of the novel, there is a top-notch Thirties-style period production, Brian Tufano's cinematography gleams, and director Donner's handling of the set pieces is exciting and imaginative.
Also in the cast are John Standing as Major Quive-Smith, Alastair Sim in his last film as The Earl, Cyd Hayman as Rebecca, Harold Pinter as Saul Abrahams, Hugh Manning, Maureen Lipman, Michael Byrne as the chilling Interrogator, Mark McManus as Vaner, Robert Lang, Ian East, Philip Jackson (in his first film), Nicholas Ball, Ray Mort, Michael Sheard, Shirley Dynevor, Ivor Roberts, Julia Chambers, Jean Rimmer, George Selway, Ron Pember and Henry Woolf.
Benedict Cumberbatch was announced 0n 3 August 2016 as the star and producer of a new remake of Rogue Male, with Michael Lesslie writing the screenplay.
Household's novel, published in 1939, did not name the hero and villain. His 1982 sequel gave them the names Raymond Ingelram and Von Lauen and the lawyer is named Saul Harding.
© Derek Winnert 2017 Classic Movie Review 4911
Check out more reviews on http://derekwinnert.com