Rock all Night *** (1957, Dick Miller, Russell Johnson, Jonathan Haze, Abby Dalton, The Platters, Robin Morse) – Classic Movie Review 4444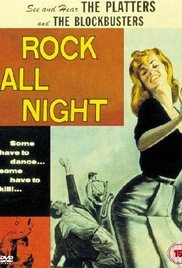 Director Roger Corman's interesting, tuneful and suspenseful 1957 B-movie cult classic is a rock 'n' roll thriller film tailored for the drive-in theatres of the day. Russell Johnson and Jonathan Haze star as killers Joey and Jigger who terrify the clients of a bar they hold hostage – and force them to sing along to the juke box. Dick Miller as Shorty may be able to sort things out.
The appeal of Corman's acceptably enjoyable if stagey quickie is enormously boosted with iconic Fifties music from The Platters and The Block Busters. It is written by Charles B Griffith (original story by David P Harmon), and shot in black and white by Floyd Crosby, with a score by Ronald Stein and music by Buck Ram.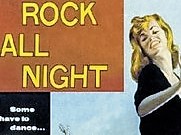 Corman recalls: 'The film is a personal favourite of mine. It was one of the strangest movies I ever made. It was actually based on a TV show I had seen and liked, a half-hour drama set in this little rock and roll bar. I remember it as a warm, funny story.'
Also in the cast are Abby Dalton as Julie, Jeanne Cooper as Mabel, Robin Morse, Richard H Cutting, Bruno VeSota, Chris Alcaide as Angie, Mel Welles, Barboura Morris as Syl, Clegg Hoyt, Richard Karlan, Jack DeWitt, Breach Dickerson and Ed Nelson.
American International Pictures released it in August 1957 in a double bill with teen movie Dragstrip Girl.
© Derek Winnert 2016 Classic Movie Review 4444
Check out more reviews on http://derekwinnert.com