Robot Monster * (1953, George Nader, Gregory Moffett, Claudia Barrett, Selena Royle, John Mylong) – Classic Movie Review 5902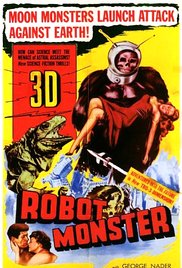 'Incredible! Unbelievable! Told The Untamed Way!' Director Phil Tucker's infamous, hysterically bad 1953 3D monster movie thriller is a classic of abysmal 1950s science fiction.
It stars George Nader in his star breakthrough role as the hero Roy but most memorably features George Barrows in a metal diving helmet and monkey suit as Ro-Man the Monster, a robot gorilla who is trying to make it the last days for mankind on Earth.
One picnicking family – Johnny (Gregory Moffett), his sisters (Claudia Barrett, Pamela Paulson) and widowed mom (Selena Royle) – survives long enough to be chased around a deserted canyon – the Bronson Caves. Also in the cast is John Mylong as The Professor.
There are lots of laughs for those who enjoy scoffing at movies in this unbelievably cheap, pathetically amateur effort.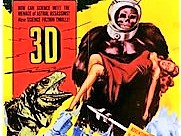 However, spare a kind thought for director Tucker, a man so upset by the awfulness of his film and so principled that he tried to commit suicide after paying to see the movie at a cinema and then writing letters of apology to local newspapers. He put a gun to his head and pulled the trigger but missed.
It is filmed by Jack Greenhalgh in 3D and black and white. It was entirely filmed outside with no sets in just four days. It is mostly shot at Bronson Caves, Bronson Canyon, Griffith Park, 4730 Crystal Springs Drive, Los Angeles, California, but the scenes at the ruins of the home are filmed in a residential hill area.
John Brown provides the voice of Ro-Man the Monster.
It is supposedly the first sci-fi film with stereophonic sound.
The title was changed to Monster from Mars, though the monster is evidently from the moon.
It cost $16,000 but was a nice little earner with a $1,000,000 US gross, and it led to Nader's contract with Universal Pictures. He enjoyed good years in the mid-1950s, with, for example, a commendable performance in Away All Boats (1956).
Nader's longtime companion, Mark Miller, was Rock Hudson's personal secretary for 13 years. Nader and Hudson helped cover for each other in protecting their Hollywood straight image. He agreed to be outed by Confidential magazine as gay rather than Hudson and was relegated to B list actor. Hudson and Nader remained life-long friends and Nader was one of the beneficiaries of Hudson's estate.
Nader recalled: 'We lived in fear of an exposé, or even one small remark, a veiled suggestion that someone was homosexual. Such a remark would have caused an earthquake at the studio. Every month, when Confidential came out, our stomachs began to turn. Which of us would be it?'
Nader retired from acting in 1974 after an eye injury and became a writer. With its gay robots, his 1978 novel Chrome was the first sci-fi thriller to have a gay theme.
© Derek Winnert 2017 Classic Movie Review 5902
Check out more reviews on http://derekwinnert.com