River of No Return **** (1954, Robert Mitchum, Marilyn Monroe, Rory Calhoun, Tommy Rettig) – Classic Movie Review 2546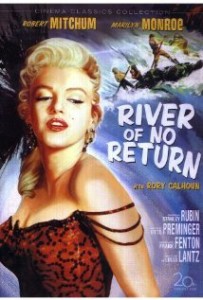 Director Otto Preminger's popular and enjoyable 1954 classic Western has the huge advantage of starring Robert Mitchum and Marilyn Monroe. They manage to strike quite a few sparks in this high, wide (CinemaScope) and handsome (the Canadian Rockies scenery) outside adventure drama, set in the Great Northwest Gold Rush days.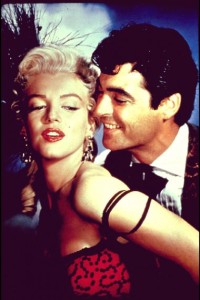 Mitchum plays Matt Calder, a widowed farmer recently released from prison, who lives on a remote farm with his young son Mark (Tommy Rettig). One day Matt saves gambler Harry Weston (Rory Calhoun) and his ambitious saloon singer wife Kay (Monroe), from the nearby river when they lose control of their raft.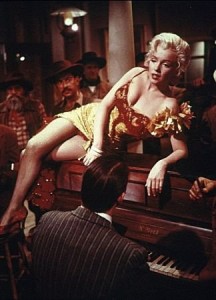 But then Weston makes off with Calder's only rifle and horse, leaving behind his wife, who feels sorry for Calder. However, now unarmed against any Indian attack, Calder, his son and Kay begin a treacherous journey down the river on the raft Weston left behind.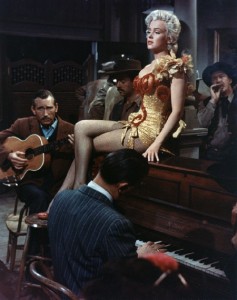 Mitchum and Monroe are a fine star team and share good chemistry, Rettig is lively and Calhoun makes an excellent slimy villain. Monroe seems to be made for glamour, the studio and the city landscapes, so it is odd but pleasing to see Monroe in jeans and in the great outdoors. Her singing voice on River of No Return, One Silver Dollar, I'm Gonna File My Claim and Down in the Meadow is dubbed by Gloria Wood.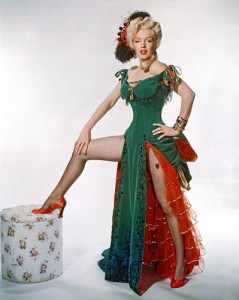 Joseph LaShelle's Technicolor cinematography is a real eye-full. It is shot at Banff National Park, and Banff National Park, Alberta, Canada. The mis-matched, obvious studio work at 20th Century Fox Studios jars a little, which is a pity when the exterior work is so painstaking.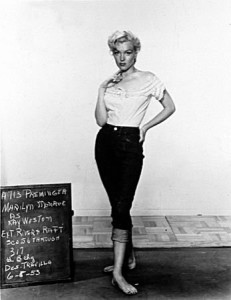 Also in the cast are Murvyn Vye, Wil Wright, Douglas Spencer, Ed Hinton, Don Beddoe, Claire Andre, Jack Mather, Edmund Cobb, Barbara Nichols, Fay Morley, Hal Baylor and Jarma Lewis.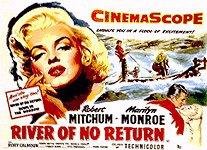 The stars were only allowed to perform on a raft secured to the riverbank, although Monroe twisted her ankle. Later, in recollection, Mitchum turned an incident where their stunt performers got in trouble on the overturning raft and had to be rescued into one that happened to him and Monroe.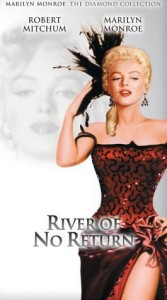 A unhappy Preminger and Monroe had to do the film through contractual obligations but felt they were slumming and considered Louis Lantz's story and Frank Fenton's screenplay below par. Yet the film was a box-office hit and remains a popular classic Western. Preminger and Monroe were kind of right, but it's one of those rare mediocre projects that works out really well.
© Derek Winnert 2015 Classic Movie Review 2546
Check out more reviews on http://derekwinnert.com