Rio Bravo ***** (1959, John Wayne, Dean Martin, Ricky Nelson, Angie Dickinson, Walter Brennan, Ward Bond, John Russell, Claude Akins) – Classic Movie Review 2540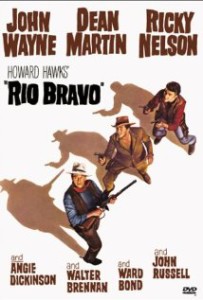 Director Howard Hawks's classic 1959 Western stars John Wayne as the lawman Sheriff John T Chance, who prevents a killer called Joe Burdette (Claude Akins) from escaping out of jail with the help of powerful friends arranged by his rancher brother Nathan Burdette (John Russell).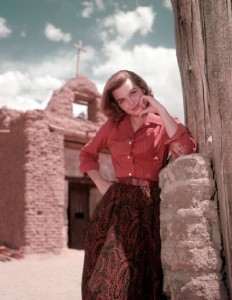 Rio Bravo is, supposedly, Hawks's and Wayne's reply to the liberal-minded High Noon movie that they so despised. Unlike Gary Cooper's Marshal Will Kane there, Wayne's John T Chance does not want any help.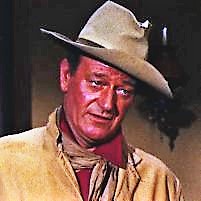 But his wild bunch of misfit allies (Dean Martin as disgraced drunk Dude, Walter Brennan as ancient, handicapped Stumpy, Ricky Nelson as kid gunslinger Colorado Ryan, Angie Dickinson as bar lady Feathers, Pedro Gonzalez-Gonzalez as hotel clerk Carlos Robante) gradually coheres into a typically Hawks-style self-contained, mutually supportive group. That is just the communist idea sort of thing Wayne and co were so vociferously against!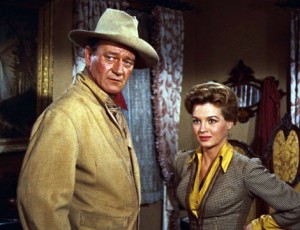 Given its dark-toned possibilities, say in a film by Sam Peckinpah, this is an easy-going, good-natured, top-notch Western entertainment, with some rousing action, touches of daffy humour and time for a couple of songs.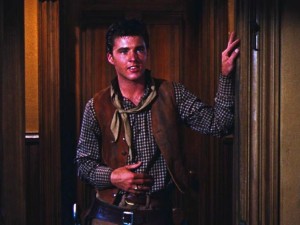 Wayne gives a great performance, one of his best, but the movie is beautifully acted all round by its now iconic ensemble. The script was virtually reworked by Hawks as El Dorado (1966), and forms the inspiration for John Carpenter's Assault on Precinct 13 (1976). It is Ward Bond's last film (as Pat Wheeler) before his death on November 5 1960, aged 57.
Also in the cast are Bob Steele, Estelita Rodriguez, Fred Graham and Myron Healey. Scenes with Harry Carey Jnr, Malcolm Atterbury and Sheb Wooley were deleted.
Ricky Nelson died in a plane crash, aged 45, on 31 December 1985. The US National Transportation Safety Board showed that an on-board heater short-circuiting and catching fire was responsible.
© Derek Winnert 2015 Classic Movie Review 2540
Check out more reviews on http://derekwinnert.com