Rio 2 ** (2014, voices Jesse Eisenberg, Anne Hathaway, Jemaine Clement, Jamie Foxx, Andy Garcia, Leslie Mann, Rita Moreno) – Movie Review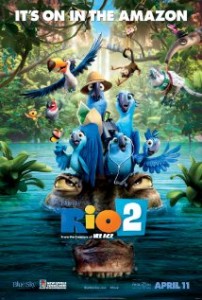 They should have called it Rio 2: The Amazon, as the film-makers have obviously not been able to find a new story to tell that's set in Rio de Janeiro for the sequel to Rio, the surprise 2011 hit that took $486 million worldwide.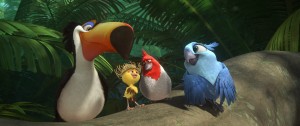 Helpfully, and educationally, pop-up maps appear on our 3D screens to keep us up to speed with how the talking blue birds Blu, Jewel (voice of Anne Hathaway) and their three kids get from Rio to a new life in the wilds of the Amazon. A flock of their rare species, the Spix's Macaw, has been found deep up the Amazon, so Blu and co fly off to investigate and decide to stay. Well, at least Jewel wants to, though Blu isn't so sure, and he misses Rio.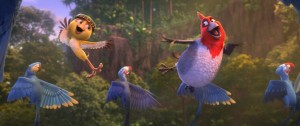 As Blu (voice of Jesse Eisenberg) tries to fit in (and this proves a mistake, of course, another life lesson from the movie) to his new environment and with the new characters, he has to go beak-to-beak with the vengeful Nigel (voice of Jemaine Clement), and meets his most fearsome adversary in his father-in-law.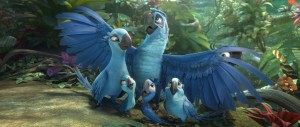 This modest and simple movie proves to be the best, most entertaining, most fun, most likeable film released in a week of big movies – Noah and Divergence among them – and most successfully fits its brief. A film with a good spirit, it's heart-felt, warm and charming, even surviving tipping over into bashing the audience's head with sentimentality and manipulation, it's that sweet.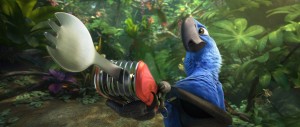 More big laughs would be better, as more or less always, but there are lots of appealing characters, fun situations, and above all there's plenty of jolly singing of toe-tapping, hum-along songs to speed the movie up through its 101 minutes. Indeed this jungle-set romp plays more like an animated song-and-dance musical than a family adventure.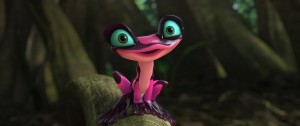 It helps that it's very ec0-conscious with all its info about rare birds and creatures, and its bashing of invading Americans and the folks who want to destroy the rain forests. So good, then. And it's good too that Brazilian co-writer/director Carlos Saldanha (also co-director on the Ice Age series) wants to give us life lessons in friendship, family and responsibility.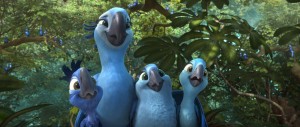 Totally amusing and amiable, time-passing divertissement as this one is, the Rio franchise needs to stop at number 2 though and quit while it's ahead. It's the first Blue Sky Studios film to have a sequel outside their Ice Age franchise. The 3D is fine but it's by no means essential or even much of an asset.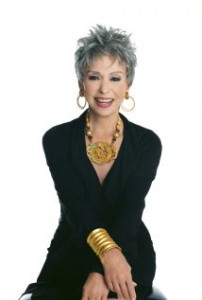 The 82-year-old screen legend Rita Moreno (Oscar-winner for West Side Story in 1961) voices Aunt Mimi.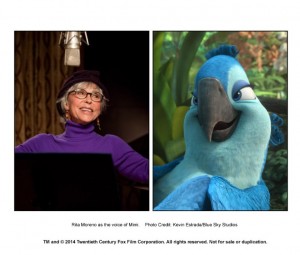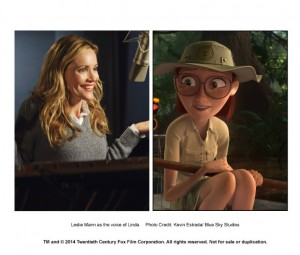 Leslie Mann is the voice of feisty human researcher Linda.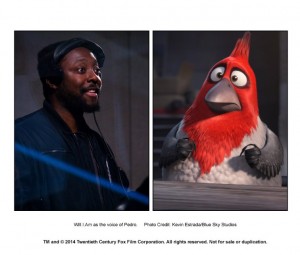 Will.I.Am is the voice of Pedro.
© Derek Winnert 2014 derekwinnert.com