Riff-Raff **** (1991, Robert Carlyle, Emer McCourt, Jimmy R Coleman, Garrie J Lammin, Ricky Tomlinson) – Classic Movie Review 5011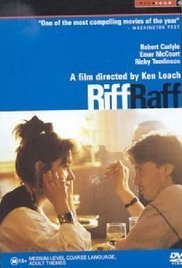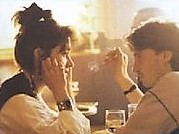 Director Ken Loach's prize-laden British comedy stars the then fresh newcomer Robert Carlyle as Stevie, a young Glasgow ex-con who gets a job as a construction worker on a London building site.
There he has to contend with the whims of the foreman Mick (Garrie J Lammin), the plotting workers, poor wages, rats and the problem of having nowhere to sleep. But romance is in the air when he meets his girlfriend Susan (Emer McCourt), an unemployed pop singer, after finding a handbag in a skip.
Loach turns Bill Jesse's partly autobiographical screenplay into a funny, gritty, winningly played portrait of life on the edge. This was construction worker Jesse's only screenplay to be put into production as he died in 1990 just before completion of Riff-Raff. The film is dedicated in memory of him.
Carlyle, McCourt and Ricky Tomlinson as Larry are outstanding. Also in the cast are Jimmy R Coleman, George Moss, David Finch, Willie Ross, Derek Young, Dean Perry, Ade Sapara, Terry Bird, Maureen Carr and Jimmy Jewel.
The film was the winner of the FIPRESCI Prize at the Cannes Film Festival in 1991 and the European Film of the Year award at the European Film Awards in 1991. McCourt won the best actress award at the Vevey comedy film festival.
Asked if it is a cinema film or TV movie, Loach replied: 'Today, everything is on television.'
McCourt is also known for Hush-a-Bye Baby (1990), London Kills Me (1991), Boston Kickout (1995) and Sunset Heights (1999).
© Derek Winnert 2017 Classic Movie Review 5011
Check out more reviews on http://derekwinnert.com