Revolt of the Zombies * (1936, Dean Jagger, George Cleveland, Dorothy Stone, Roy D'Arcy, Robert Noland) – Classic Movie Review 4423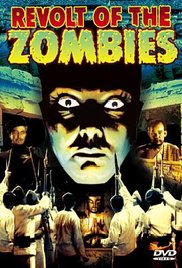 Director Victor Halperin makes a follow-up to his 1932 hit White Zombie, the first feature length zombie film, but fails to re-cast Bela Lugosi in the star role, making the mistake of hiring Dean Jagger by preference instead. Without Lugosi, it is merely an uninvolving nothing, and forgotten, unlike the original.
This time it is a no-threat, no-fun zombie thriller, with feeble monsters and boring humans, burying a decent premise about France having developed a clandestine army of zombies. General Duval (George Cleveland) is ordered to kill them all after World War One, but Armand Louque (Jagger) has other ideas after he is rejected by Duval's lovely grand-daughter Claire (Dorothy Stone).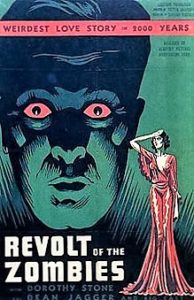 The weak performances are matched by a poor production, with a slack pace and a flat atmosphere, though there is a tiny bit of camp appeal for those charmed by zombie movies or just like to laugh at bad movies.
It also features Roy D'Arcy as General Mazovia, Robert Noland as Clifford Grayson, E. Alyn Warren as Dr Trevissant, Carl Stockdale as Ignacio and William Crowell as Priest Tsiang.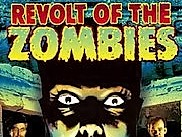 The screenplay is by Victor Halperin, Howard Higgin and Rollo Lloyd, it is shot by J Arthur Feindel and produced by Victor and Edward Halperin.
Insult is added to injury when Halperin re-uses the image of Lugosi's eyes from White Zombie to superimpose on the screen frequently when zombie powers are being used.
Amusement Securities Corporation who had helped finance White Zombie alleged that its contract for it gave them the exclusive right to use the world 'zombie' in motion picture titles. Judgement was reached in favour of the plaintiffs, awarding Amusement Securities $11,500 in damages and legal fees and prohibiting the Halperins from promoting Revolt of the Zombies as a sequel to White Zombie.
It was shot at Talisman Studios, Sunset Blvd, Hollywood, though a camera crew was also sent to Angkor, Indochina, to film background shots.
The film is in the public domain and can be freely copied or distributed.
© Derek Winnert 2016 Classic Movie Review 4423
Check out more reviews on http://derekwinnert.com