The Croods **** (2013, voices of Nicolas Cage, Ryan Reynolds, Emma Stone, Cloris Leachman) – Movie Review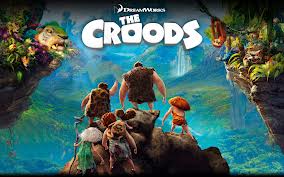 Highly recommended to all but the most cynical among us (you know who I mean), The Croods is a lovely, quirky delight with a sweet heart and loads of laughs. Thin on story, the good-natured, easy-going script's maybe not much more than a harsh pre-historical situation and a series of survival incidents. But it's so much fun and has so much infectious charm that that really doesn't matter at all.
With a relatively short running time, it drives throughout along the fast lane as the storytelling rushes headlong to a dynamically-staged, nail-biting conclusion. A small gem of screen writing, The Croods is also technically stupendous, quite beautifully animated with extremely effectively-used 3D. There must be an amazing amount of effort behind this DreamWorks animation, but its winning trick is that it never looks as though it's trying too hard. This is called wit.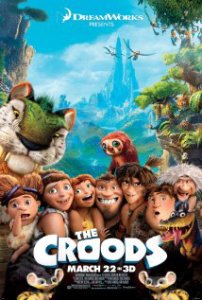 It helps loads that the adorable characters (part Troll, part Flintstone) are brought to vibrant life with top vocal talents on their best, liveliest form, especially Nicolas Cage, Ryan Reynolds, Emma Stone and the 86-year-old Cloris Leachman (who set a record when she appeared on Dancing with the Stars at 82) as Gran.
Nicolas Cage provides the appealing voice of Krug, conservative-minded, over-protective patriarch of the world's first, well at least first surviving prehistoric family. He wants everyone safe in the cave at night, especially his wayward daughter Eep (Emma Stone).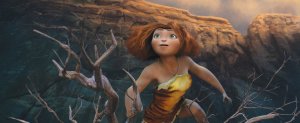 You're at least one ahead of me now. Eep sneaks out at night, and puts herself in danger, but – did you guess this? – meets a cute boy called Guy (Ryan Reynolds) with a belt called Belt around his waist. Guy falls instantly for Eep, warns her the world's ending and they have to reach higher ground. Eep doesn't want to be saved – just yet! – and Guy takes off, giving her a shell to blow as a warning if she's ever in trouble. He shows her the magic of fire too, though apparently he hasn't invented the wheel yet.
Old dad's way upset when he wakes up and finds there's no Eep in the cave, but then suddenly there's some real bad weather as forecast by Guy and the cave's in danger of being destroyed and the family face a life-of-death decision. They have to decide whether to take off in a road trip through danger to a brighter tomorrow or risk staying with a terrible today. If they go, can they survive their road trip quest for paradise?
Mmm. This movie is so positive, upbeat and sunny you'd think it would actually hurt. Running through endless dangers from the elements, freaky Avatar-style landscapes and bizarre, scary creatures, the Crood family look as though they're never gonna get by, but of course they do. It's that kind of movie and boy do we need it now! This movie is in tune with the time we're in. We'd like to feel safe, but feel threatened in a world we can't totally control, events actually threaten us, we have to do something risky to resolve the situation, then, hopefully, we're safe again.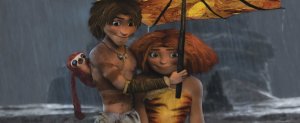 It's that that's going to make this movie popular, along with its sweet, cheery and optimistic nature, quirkily cute characters, funny situations and witty dialogue. Why am I taking it at all seriously? It doesn't want you to. It's a laugh.
Writer-directors Kirk De Micco and Chris Sanders have a long track record in family animation. De Micco was involved in Quest for Camelot, Space Chimps and Racing Stripes. Sanders is a Disney graduate (and also voice artist, providing the vocals for Belt) from the old Beauty and the Beast, Aladdin, Lion King and Mulan days. They may owe debts to The Flintstones, Avatar and The Land Before Time, but this easily ranks among their best work.
© Derek Winnert 2013 Movie Review
Check out more reviews on http://derekwinnert.com/