Return of the Fly ** (1959, Vincent Price, Brett Halsey, David Frankham, John Sutton) – Classic Movie Review 5303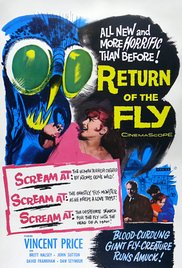 The best news about director Edward L Bernds's 1959 creature feature horror movie is that it brings back beloved horror icon Vincent Price from the 1958 original The Fly.
But it is a cheap and tacky black and white, CinemaScope sequel to The Fly, in which Brett Halsey plays Philippe Delambre, the now-adult son of the original scientist, who follows up his father's experiments and, lo and behold, he too gets mixed up with a fly, becoming a horrible half-man, half-fly creature. Philippe then goes into murder mode when he discovers that his assistant Ronald Holmes (David Frankham) has been selling his transportation secrets.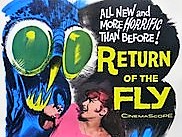 Playing more of the big-headed monster this time, Price repeats his camp performance as Philippe's uncle, François Delambre, who joins his nephew in an attempt to create their own matter transmission device.
But there is an infuriatingly silly tone this time thanks to Three Stooges director Bernds, who does not take the subject matter or the horror nearly seriously enough. With the script designed to use the standing sets from The Fly (1958), and Brydon Baker shooting in black and white, it cost only $225,000 to make.
Also in the cast are John Sutton, Dan Seymour, Danielle De Metz, Janine Grandel, Richard Flato, Barry Bernard, Pat O'Hara, Jack Daly, Michael Mark, Gregg Martell, Francisco Villalobos and Joan Cotton.
It turned out to become the middle film a trilogy when it was belatedly followed by The Curse of the Fly in 1965, without Vincent Price. The Fly was resurrected by David Cronenberg in 1986, followed by a sequel, and in 2017 a reboot is in the works.
© Derek Winnert 2017 Classic Movie Review 5303
Check out more reviews on http://derekwinnert.com