Resident Evil: Afterlife ***½ (2010, Milla Jovovich, Ali Larter, Wentworth Miller, Kim Coates, Shawn Roberts) – Classic Movie Review 3971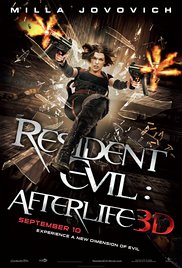 In that post-apocalyptic world known only to sci-fi writers and movie-makers, Milla Jovovich's action babe Alice flies to Alaska and finds Ali Larter's Claire Redfield, from Resident Evil: Extinction (2007). They fly to LA and join a group of survivors of the virus-infected Undead, trying to help them reach a safe haven.
Returning to the video-game-based series as director for Resident Evil's part four Afterlife in 2010, writer-producer-director Paul W S Anderson proves that there is still deadly kick-ass life in the tried-and-tested old formula. It is a fantastic-looking, really rather awesome movie, inspired by using the brilliant, state-of-the-art 3D effects system James Cameron pioneered on Avatar.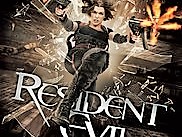 The visuals are indeed stunning, the slam-bang, total adrenaline-rush action sequences are heart-pounding and the incredible Jovovich is a wonder of nature as arguably cinema's best current fighter heroine. Of course there's an inevitable sense of deja-vu, but this is still a highly impressive fourth installment, for all that.
It is preceded by Resident Evil (2002) and Resident Evil: Apocalypse (2004) and Resident Evil: Extinction (2007).
Resident Evil: Retribution (2012) and Resident Evil: The Final Chapter (2016) followed.
© Derek Winnert 2016 Classic Movie Review 3971
Check out more reviews on http://derekwinnert.com