Reds **** (1981, Warren Beatty, Diane Keaton, Edward Herrmann, Jack Nicholson, Maureen Stapleton, Paul Sorvino, Gene Hackman) – Classic Movie Review 4799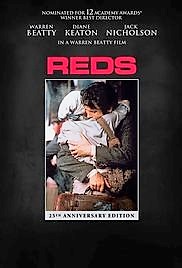 Director Warren Beatty won the Academy Award for Best Director for his fascinating, sometimes riveting 1981 film about the life  of communist American -radical journalist John Reed from 1913 through his involvement in the 1917 Russian Revolution and his relationship with free-thinker Louise Bryant (Diane Keaton) to his death in Russia. Reed wrote about it in his book Ten Days That Shook the World, though this is not credited as even an inspiration for thee screenplay.
Reds is a personal film that proved a triumph for Beatty, who stars as Reed as well as directing, producing and co-writing (with Trevor Griffiths). Lengthy, courageous, intelligent and thoughtful, it succeeds both as a swirling historical epic and an intimate romance. The narrative is interrupted by real-life notables reflecting on their relationships with Reed and Bryant.
The Oscars also for Maureen Stapleton as Best Supporting Actress as the disillusioned anarchist Emma Goldman and Best Cinematography for brilliant cinematographer Vittorio Storaro helped a long (195 minutes), costly ($35 million), serious-minded difficult film along to some success at the box office (it took $32 million in America). Maybe the OTT advertising helped too: 'Not since Gone With the Wind has there been a great romantic epic like it!' It is a nice try but a comparison with Doctor Zhivago might have been more accurate.
The film was nominated for 12 Oscars, and won three. Beatty was nominated in four categories (Best Picture, Best Actor, Best Director, Best Original Screenplay), but won only for Best Director. Beatty also won the Golden Globe as Best Director but he was snubbed by the Baftas, who awarded Maureen Stapleton as Best Supporting Actress and Jack Nicholson (playing Eugene O'Neill) as Best Supporting Actor.
Also in the cast are Edward Herrmann as Max Eastman, Jerzy Kosincki, Jack Nicholson, Maureen Stapleton, Paul Sorvino, Gene Hackman, William Daniels, M Emmet Walsh, Nicolas Coster, Ian Wolfe, Bessie Love, George Plimpton, Dolph Sweet and Josef Sommer.
It was made in the studio in the UK at Twickenham Film Studios, Middlesex, with some filming in Westminster, London, and in Spain. Beatty spent ten days in the USSR during development but was declined filming in Leningrad so Finland ended up doubling for Russia.
© Derek Winnert 2016 Classic Movie Review 4799
Check out more reviews on http://derekwinnert.com