Red Line 7000 ** (1965, James Caan, Laura Devon, Gail Hire) – Classic Movie Review 3922
James Caan was a rather ordinary actor and screen presence in his young days, and here he is, aged 25, in 1965 starring in a rather ordinary soap-opera type of movie, written by George Kirgo from a story by producer-director Howard Hawks.
Caan stars as a straight-as-an-arrow stock-car racer called Mike Marsh, who is surrounded by as many sexy women as fast cars. Caan does his best with a big though rather thankless role. Mike Marsh and Jim Loomis (Anthony Rogers) both drive for Pat Cassarian (Norman Alden).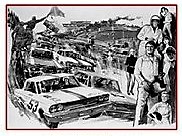 It is a run-of-the-mill, even quite dull movie for a Howard Hawks film, with the old man seeming to be struggling to find some fertile new ground to till.
But it remains entirely brisk, watchable and professional, and it has its admirers, though the truth is it is a B movie.
Also in the cast are Laura Devon, Gail Hire, Charlene Holt, John Robert Crawford, Marianna Hill, James Ward, George Takei (as Kato), Robert Donner and Diane Storm.
Hawks recast Caan the following year for El Dorado.
© Derek Winnert 2016 Classic Movie Review 3922
Check out more reviews on http://derekwinnert.com