Red Dawn **** (1984, Patrick Swayze, C Thomas Howell, Ron O'Neal, William Smith, Powers Boothe, Charlie Sheen, Jennifer Grey) – Classic Movie Review 5457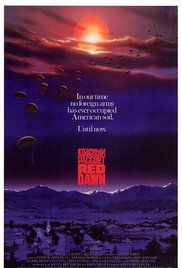 Co-writer/ director John Milius's 1984 American Eighties right-wing propaganda action thriller is thoroughly disreputable, but also sneakily enjoyable as a guilty pleasure.
In Milius's screenplay with Kevin Reynolds (who also wrote the original story), a bunch of American teenage lads retaliate when Russian and Cuban troops land from the sky and invade their small US town in Colorado. While the Commies round up the adults and install their own government, the kids take to the hills with weapons, supplies and ammo. The boys save an American pilot who is shot down and in return he helps them survive and fight back.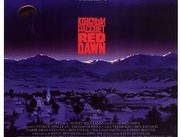 This thoroughly red-blooded and exciting, though highly dubious Commie-bashing action thriller is a key work from ultra-talented, conservative-thinking cult director John Milius (Big Wednesday, Dillinger, Conan the Barbarian).
The nice young stars (Patrick Swayze in the star role as Jed, Charlie Sheen as as his moody younger brother Matt and C Thomas Howell as Robert) then on their way up enliven this carelessly gung-ho Cold War adventure that is a dodgy product of America's jingoistic Eighties. Milius is not careless though, he knows exactly what he is doing, targeting exactly.
Casting the young heartthrobs implies that the movie is mostly aimed at a teenage audience, but ironically it is likely that many of their dads who like war/battle movies will probably enjoy it most.
Also in the very good cast are Ron O'Neal as Bella, William Smith as Strelnikov, Powers Boothe as Andy, Jennifer Grey as Toni, Lea Thompson as Erica, Harry Dean Stanton as Mr. Eckert, Ben Johnson as Mr. Mason, Brad Savage as Danny, Darren Dalton as Daryl, Doug Toby as Aardvark, Frank McRae as Mr. Teasdale and Vladek Sheybal as Bratchenko.
It was remade in 2012 as Red Dawn, with Chris Hemsworth, Josh Peck, Josh Hutcherson, Adrianne Palicki, Isabel Lucas and Jeffrey Dean Morgan.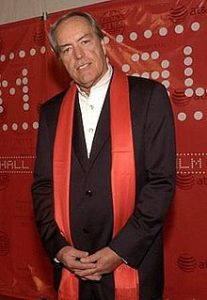 RIP Powers Boothe (1948–2017).
© Derek Winnert 2017 Classic Movie Review 5457
Check out more reviews on http://derekwinnert.com