Reckless *** (1935, Jean Harlow, William Powell, Franchot Tone, May Robson) – Classic Movie Review 4942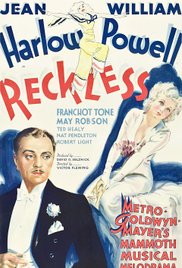 Director Victor Fleming's 1935 MGM musical melodrama stars Jean Harlow, who plays a theatre star whose career is endangered by the scandal of her husband's suicide.
The tale uncomfortably is plucked by producer David O Selznick (writing under the pseudonym Oliver Jeffries) from Jean Harlow's own life, though it was supposedly based on Broadway actress/ torch singer Libby Holman's life story, written by Selznick as A Woman Called Cheap, a working title for the film. It only very loosely follows the scandal of the 1931 marriage between Holman and tobacco heir Zachary Smith Reynolds and his death by gunshot to the head.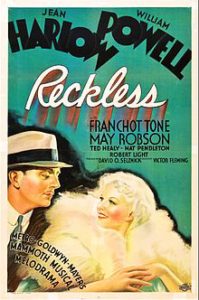 The story is a love triangle in which rich Bob Harrison (Franchot Tone) loves Mona Leslie (Jean Harlow) so much that he buys all the seats in the theatre to watch her musical alone, but he finds himself in competition with her agent Ned Riley (William Powell) who also loves her.
The good things here are Harlow's vibrant performance, the tremendous studio cast, and the gutsy tale told with flair by director Fleming. There are even a few top songs, including Jerome Kern (music) and Oscar Hammerstein (lyrics)'s title tune 'Reckless', plus Burton Lane (music) and Harold Adamson (lyrics)'s 'Hear What My Heart Is Saying', Burton Lane (music) and Harold Adamson (lyrics)'s 'Trocadero' and Jack King (music) and Edwin Knopf and Harold Adamson  (lyrics) 'Everything's Been Done Before'.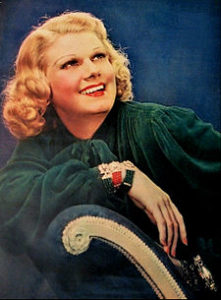 It is Harlow's show but the two stalwart co-starring performances help. Franchot Tone is good playing the boozy husband who shoots himself and William Powell is even better as the faithful agent who loves Harlow and lifts her back to popular favour after the scandal.
Harlow's playing was enhanced by doubles for the singing and dancing. Her voice was dubbed by vocalist Virginia Verrill. Ironically, the MGM adverts announced: 'Jerome Kern wrote the hit song "Reckless" for Jean to sing!'
It is singer Allan Jones's film début (as Allan). Leon Waycoff (as Ralph Watson) later became Leon Ames.
Also in the cast are May Robson, Ted Healy, Nat Pendleton, Rosalind Russell, Henry Stephenson, Mickey Rooney, Louise Henry, James Ellison, Leon Ames (billed as Leon Waycoff, Akim Tamiroff, Margaret Dumont, Harold Huber, Nina Mae McKinney, Rafael Storm, Wade Botelier, Lee Phelps and Jack Mulhall.
It runs 95 minutes, is an MGM production and release, is written by P J Wolfson, is shot in black and white George J Folsey, is produced by David O Selznick and scored by Edward Ward. Ten other uncredited writers, including Joseph Mankiewicz, Philip Barry, S N Behrman and Val Lewton, worked on the script.
A week before filming was due to start, original star Joan Crawford was replaced by Harlow when Selznick decided that Powell's well-known real-life romance with Harlow would help to publicise his film. But Harlow was reluctant as her husband Paul Bern committed suicide two years earlier like the husband of her character. Even so, it flopped, losing $125,000.
Jean Harlow (March 3, 1911 – June 7, 1937) was born Harlean Harlow Carpenter. She had scarlet fever at 15, which may have contributed to her death from kidney disease on June 7, 1937, aged just 26.
© Derek Winnert 2017 Classic Movie Review 4942
Check out more reviews on http://derekwinnert.com