Reach for the Sky **** (1956, Kenneth More, Muriel Pavlow, Lyndon Brook) – Classic Movie Review 5016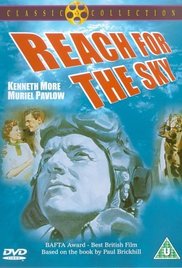 Writer-director Lewis Gilbert's inspirational 1955 British drama stars Kenneth More, who enjoyed his biggest success when Richard Burton turned down the role of ace British pilot Douglas Bader.
Bader painfully learns to walk again and flies to distinction in World War Two after a disastrous 1931 flying accident costs him both of his legs. The doctors expect him to die, but Bader's determination and courage overcomes terrible odds. However, just walking on artificial legs isn't enough for Bader – life for him means flying. Then World War Two gives him the chance to fly again and prove those who doubt him wrong, becoming a fighter pilot and wing leader.
Mostly because of quintessential Englishman More's sympathetic performance as a man of great integrity, humour and grit, director Gilbert's biopic is something better than a conventionally crafted patriotic flag-waving movie. If only Gilbert's screenplay (based on the book by Paul Brickhill) had dug a little deeper and avoided sentimentality we might have learned even more about pain, despair and the mad drive to win against seemingly impossible odds. However, it is a story and film that inspired many people in the dark days of Fifties.
It runs 136 minutes but it was cut by 12 minutes in the US where it failed to repeat its popularity.
It is the winner of the 1957 Bafta Best British Film award.
It is Clive Revill's debut as a batman.
Also in the true Brit cast are Muriel Pavlow as Thelma Bader, Lyndon Brook, Lee Patterson, Alexander Knox, Dorothy Alison, Michael Balfour, Michael Warre, Sydney Tafler, Howard Marion Crawford, Jack Watling, Avice Landone, Ernest Clark, Michael Ripper, Eric Pohlmann, Eddie Byrnes, Nigel Green, Ronald Adam and Sam Kydd.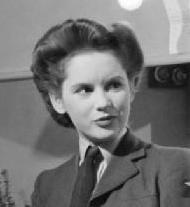 Muriel Pavlow is 96 on 27 June 2017. Her last film was Glorious 39 (2009).
© Derek Winnert 2017 Classic Movie Review 5016
Check out more reviews on http://derekwinnert.com