Raising Cain ** (1992, John Lithgow, Lolita Davidovich, Steven Bauer) – Classic Movie Review 4430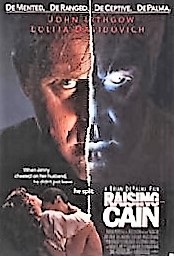 Writer-director Brian De Palma's self-mocking 1992 suspense thriller is stylistically and thematically extravagant as well as gleefully self-indulgent, but not in a very good or much fun way, because of a muddled, far-fetched and finally none too thrilling story.
John Lithgow stars as a psychopathic, multiple-personality child psychologist Carter Nix, who kidnaps his own daughter and implicates his wife Jenny Nix (Lolita Davidovich)'s lover.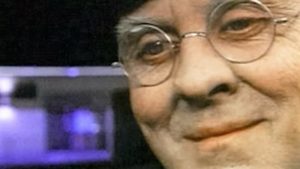 With the box-office flops of Casualties of War (1989) and Bonfire of the Vanities recently behind him, De Palma runs for cover and goes back to what he formerly was able to do best – raiding ideas and images from the work of Alfred Hitchcock – and adds in homages to Peeping Tom and his own movies as well.
It is, however, some campy fun for those who are attuned to DePalma's sensibilities. But both the movie and the performances should have been much better. Stephen Burum's cinematography and Pino Donaggio's score help out quite a bit.
DePalma's Obsession (1976), Body Double (1984) and Dressed to Kill (1980) are so much better.
Also in the cast are Steven Bauer, Lolita Davidovich, Frances Sternhagen, Gregg Henry, Tom Bower, Mel Harris, Terry Austin, Gabrielle Carteris and Barton Heyman.
© Derek Winnert 2016 Classic Movie Review 4430
Check out more reviews on http://derekwinnert.com