Raintree County ** (1957, Montgomery Clift, Elizabeth Taylor, Eva Marie Saint, Nigel Patrick, Lee Marvin, Rod Taylor, Agnes Moorehead, Walter Abel) – Classic Movie Review 6416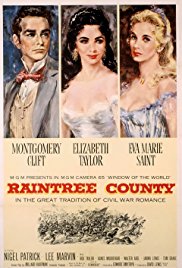 A typecast Elizabeth Taylor settles in comfortably to a tailor-made role as a gorgeous Southern American belle in a showy, Oscar-nominated performance as Susanna Drake, cast opposite her favourite actor friend Montgomery Clift as John Wickliff Shawnessy, in MGM's plush 1957 American Civil War soap opera. It was nominated for four Oscars.
It is set in Freehaven, Raintree County, Indiana, in the mid-19th century when John Shawnessy has just graduated as a writer, and falls in love with Southern belle Susanna, but the Civil War and her past get in the way.
Despite the exceptional cast in their prime, the superb studio production and Robert Surtees's marvellous Technicolor widescreen cinematography, director Edward Dmytryk manages only a mediocre film.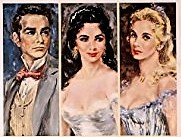 For this, blame this sprawling, unfocused movie's rambling length (167 minutes), the cardboard characters, the dull story and the unconvincing dialogue in Millard Kaufman's screenplay, based on the novel by Ross Lockridge Jr.
The movie is certainly in the interesting and watchable category, but must be considered a disappointment given the talent involved.
It also stars the alluring lineup of Eva Marie Saint as Nell Gaither, Nigel Patrick as Professor Jerusalem Webster Stiles, Lee Marvin as Orville 'Flash' Perkins, Rod Taylor as Garwood B. Jones, Agnes Moorehead as Ellen Shawnessy, and Walter Abel as T.D. Shawnessy.
It is produced by David Lewis and scored by Johnny Green, with Art Direction by William A Horning and Urie McCleary.
Also in the cast are Jarma Lewis, Tom Drake, Gardner McKay, Rhys Williams, Russell Collins, DeForest Kelley, Myrna Hansen, Olive Blake and John Eldredge.
It was nominated for four Oscars: Best Actress (Taylor), Best Art Direction-Set Decoration (William A Horning, Urie McCleary, Edwin B. Willis, Hugh Hunt ), Best Costume Design (Walter Plunkett) and Best Music, Scoring (Johnny Green). Patrick took a Golden Globe nomination for Best Supporting Actor.
© Derek Winnert 2017 Classic Movie Review 6416
Check out more reviews on http://derekwinnert.com