Rainbow * (1995, Willie Lavendahl, Bob Hoskins, Jack Fisher, Jacob Tierney, Dan Aykroyd, Saul Rubinek) – Classic Movie Review 5467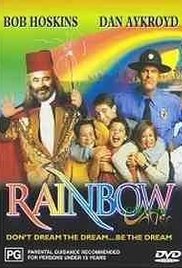 Four children and a dog set out to try to find a rainbow and one of the kids steals its gold, causing colour to drain from the world, so the movie goes into black and white.
Director Bob Hoskins's 1995 family fantasy comedy movie is undeniably good hearted and well meaning. But, sad to say, it is also incredibly tedious and artsy-fartsy, with none of the magic of The Wizard of Oz that the title and theme are supposed to conjure up.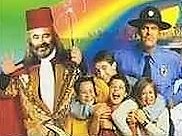 It is aimed mostly at kids, but they will likely find it as off-putting as adults would, and the second half of the 98-minute film is even less entertaining than the first.
It stars Willie Lavendahl [Willy Lavendel] as Mike Bailey, Bob Hoskins as Frank Bailey, Jack Fisher and Jacob Tierney as Steven Bailey.
Also in the cast are Terry Finn, Norris Dominique, Babs Gadbois, Susan Glover, Jane Gilchrist, Griffith Brewer, Larry Day, Lisa Moore Bronwyn, Bonnie Mak, Gordon Masten, Saul Rubinek as Sam Cohen, Richard Jutras as the Deputy Sheriff, and Dan Aykroyd as Sheriff Wyatt Hampton.
The screenplay by Ashley Sidaway and Robert Sidaway is based on a story by Ashley Sidaway, with a rewrite by Gary Goldstein.
It is shot by Freddie Francis, produced by Nicholas Clermont and Robert Sidaway, scored by Alan Reeves and designed by Claude Paré.
RIP Bob Hoskins: 1942-2014. He made just two features as director, this and The Raggedy Rawney (1988).
© Derek Winnert 2017 Classic Movie Review 5467
Check out more reviews on http://derekwinnert.com