Rabbit-Proof Fence **** (2002, Everlyn Sampi, Tianna Sansbury, Kenneth Branagh, David Gulphilil, Ningali Lawford) – Classic Movie Review 855
Australia, 1931. Three part-Aboriginal girls, Molly Craig (Everlyn Sampi) and her younger sister and cousin, escape their internment at the hands of the British, under the wickedly misguided 'chief protector of Aborigines' A O Neville (Kenneth Branagh), who wants to 're-educate' them as domestic servants for middle-class white folks.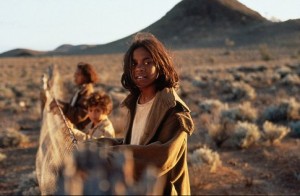 Relentlessly pursued by Moodoo, the Tracker (David Gulphilil), the girls undertake a dangerous epic 1,500-mile trek across the continent, walking for nine weeks, using the title fence as a guide, back to their mother (Ningali Lawford).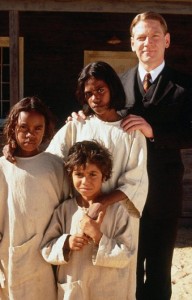 Director Phillip Noyce's 2002 film is a beautiful-looking, lovingly-crafted movie, though that picturesque cinematography by master director of photography Christopher Doyle slightly gets in the way of the drama, whose important, potent message is commendably clear. Christine Olsen's screenplay is simple, straightforward and direct, but it is not exactly subtly handled.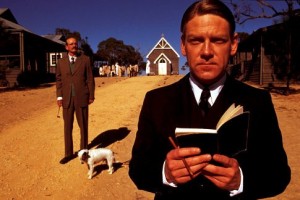 Based on the book Follow the Rabbit-Proof Fence by Doris Pilkington, the story is extremely moving and the girls are excellent, but setting it in the long-ago past (even if the two women are still alive, as we see at the end) diminishes its impact. It would be much more interesting to see the present-day lives of these ladies, and find out about contemporary attitudes of Australians to today's Aboriginal people.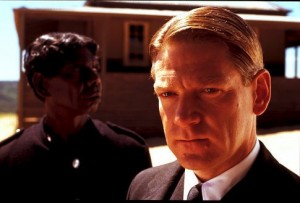 Though he does it well, Branagh is typecast as a typical movie villain, and again with the bad Brit thing! In 2014, he is still playing stock villains in his own Jack Ryan movie, Jack Ryan: Shadow Recruit, though admittedly this time he is meant to be Russian.
© Derek Winnert 2014 Classic Film Review 855 derekwinnert.com