Pygmalion **** (1938, Leslie Howard, Wendy Hiller, Wilfrid Lawson) – Classic Movie Review 4945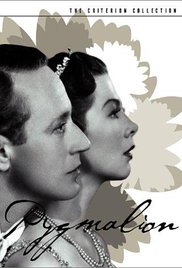 Pygmalion? It was one of Shaw's.
Directors Anthony Asquith and Leslie Howard's accomplished, brisk and entertaining 1938 GB version of George Bernard Shaw's 1913 play (his own scenario and dialogue won him a shared Oscar for Best Writing, Screenplay) about the speech-study professor who plots to make a lady of a common London flower girl.
Star Howard (who shares the direction with Asquith) plays Professor Henry Higgins as a perfect mix of the horrid and the appealing, while Wendy Hiller's expert and estimable Eliza Doolittle is a fully rounded, engaging character, though, arguably, the star turn comes from Wilfrid Lawson as Eliza's garrulous dustman dad, Alfred Doolittle.
While the film makes sure it does full justice to the outpouring of Shaw's sharply witty dialogue, unsurprisingly so as he did his own scenario and dialogue, it stays cinematic and never seems stagy.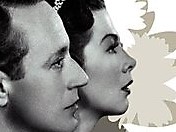 Pygmalion is a perfect complement to the glossier but less sharp My Fair Lady. The writers Shaw, W P Lipscomb, Cecil Lewis, and Ian Dalrymple shared the Oscar for Best Writing, Screenplay. Howard and Hiller were nominated as Best Actor and Actress, and the film as Best Picture, but there was just the one win.
Audiences of the day were shocked and delighted when Hiller swears as she declares to young Freddy Eynsford-Hill (David Tree): 'Walk? Not bloody likely! I'm taking a taxi.' It runs a brisk 95 minutes, with a score by Arthur Honegger, but the US version runs only 89 minutes and has a new William Axt title theme.
Also in the cast are  Scott Sunderland as Colonel George Pickering, Marie Lohr as Mrs. Higgins, David Tree, Esmé Percy, Everley Gregg as Mrs. Eynsford-Hill, Jean Cadell as Mrs. Pearce, Leueen McGrath, Violet Vanbrugh, Iris Hoey, Viola Tree, Irene Browne, Kate Cutler, Cathleen Nesbitt, O B Clarence, Wally Patch, H F Maltby, George Mozart, Ivor Barnard, Cecil Trouncer, Stephen Murray, Eileen Beldon, Frank Atkinson, Leo Genn, Anthony Quayle and Patrick Mcnee.
Shaw did not attend the 1939 Oscar ceremony and when presenter Lloyd C Douglas announced that Pygmalion won, he joked: 'Mr Shaw's story now is as original as it was 3000 years ago.' Shaw's reaction later was: 'It's an insult for them to offer me any honour, as if they had never heard of me before. And it's very likely they never have. They might as well send some honour to George for being King of England.'
Legend had it that Shaw never received the Oscar, but when Mary Pickford visited him she saw it on his mantlepiece. His home at Ayot St Lawrence became a museum on his death in 1950 but the statuette was so tarnished, the curator thought it had no value and used it as a door stop. It is now repaired and is on display at the museum. Shaw would probably not be amused.
© Derek Winnert 2017 Classic Movie Review 4945
Check out more reviews on http://derekwinnert.com