Pushing Tin *** (1999, John Cusack, Billy Bob Thornton, Cate Blanchett, Angelina Jolie) – Classic Movie Review 982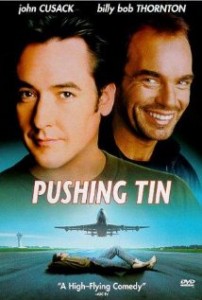 Director Mike Newell's offbeat 1999 movie features a smartly set-up and unusual story that centres on air traffic controller Nick Falzone (John Cusack)'s life, job and marriage to Connie (Cate Blanchett) falling apart. At first, he is the undisputed king of pushing tin.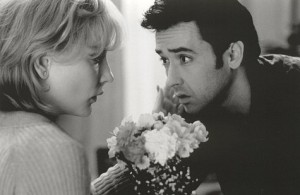 There's a whole lot of star power in this movie. Billy Bob Thornton plays Russell Bell, the rival new air traffic controller who enters Cusack's life, along with his wife Mary, played by Angelina Jolie. A feud develops between the two very different air traffic controllers. While Nick is restrained and laid back, Russell is cocky and reckless so Something's Got To Give. A game of one-upmanship between the two leads Nick into bed with Russell's wife.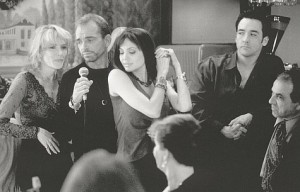 The movie's always intriguing and well made, but, with the drama sometimes lacking tension and the comedy too amiable, it slightly tends to get lost along the away. However, the expert work from the exceptional cast keeps the thing in the air. Screenwriters Glen Charles and Les Charles, who created TV's Cheers, base their screenplay on the article Something's Got To Give by Darcy Frey.
Also in the cast are Jake Weber, Kurt Fuller, Vicki Lewis, Matt Ross, Jerry Grayson, Michael Wills and Philip Akin.
It runs 123 minutes, is produced by 3 Miles Apart Productions, Art Linson Productions, Dogstar Films, Regency and Taurus, is released by Fox 2000 and 20th Century Fox, is shot in widescreen by Gale Tattersall, is produced by Michael Flynn and Art Linson, is scored by Anne Dudley and is designed by Bruno Rubeo.
© Derek Winnert 2014 Classic Movie Review 982
Check out more reviews on http://derekwinnert.com