Psych-Out *** (1968, Susan Strasberg, Dean Stockwell, Jack Nicholson, Bruce Dern, Adam Roarke, Max Julien, Henry Jaglom) – Classic Movie Review 3868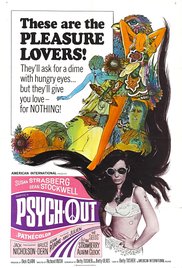 'These are the PLEASURE LOVERS! They'll ask for a dime with hungry eyes… but they'll give you love– for NOTHING!' Director Richard Rush's flashy 1968 movie stars Susan Strasberg as Jenny Davis, a deaf runaway in search of her missing brother Steve Davis (Bruce Dern). She arrives in the Haight-Ashbury hippie district and becomes part of Stoney (Jack Nicholson)'s trashy psychedelic pop band, Mumblin' Jim, in Sixties San Francisco.
Rush's film is an intriguing, cultish parade of some of the psychedelic counter-culture and some of the icons of the Swinging Sixties era. And it looks pretty far out too, thanks to cinematographer Laszlo Kovacs's camerawork.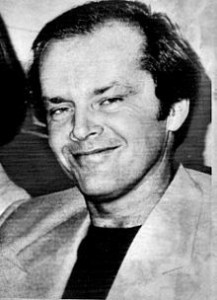 An uncredited Jack Nicholson, E Hunter Willett, Betty Tusher and Betty Ulius write this exploitation movie, contrasting the gentle hippies with the violent wrinklies. Dean Stockwell plays a flower-power person called Dave and Adam Roarke, star of Hell's Angels on Wheels, plays Ben, another of the band members along with Elwood (Max Julien). Directors Henry Jaglom and Garry Marshall play Warren and plain-clothes man.
Rush thought Nicholson's script was too experimental for mainstream cinema, so Willett, Tusher and Ulius developed the concept of a youth film based in San Francisco and dealing with flower power and drugs. Nicholson ended up with no screen but still the role he had written for himself.
© Derek Winnert 2016 Classic Movie Review 3868
Check out more reviews on: derekwinnert.com