Private Benjamin **** (1980, Goldie Hawn, Eileen Brennan, Armand Assante) – Classic Movie Review 4059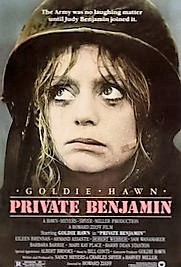 Director Howard Zieff's 1980 hit military cadet training comedy stars Goldie Hawn as Judy Benjamin, a daffy rich girl who enlists in the United States Army, expecting one long Caribbean vacation – only to find that life in America's finest involves more toilet cleaning than sightseeing. It was nominated for three Oscars, Best Actress (Hawn), Best Supporting Actress (Eileen Brennan) and Best Original Screenplay, but nobody won.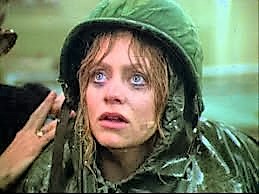 Oscar-nominated Eileen Brennan shines as Hawn's nasty commanding officer and Armand Assante plays Henri Alan Tremont, the sexy playboy Hawn falls for. But the movie's chief delight is Hawn's appealing, kooky-style comedy playing, back doing slapstick physical comedy after the more subtle humour of her Seventies movies.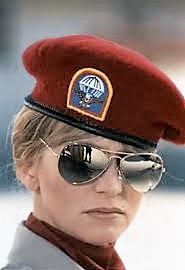 Part knockabout army comedy, part down-home dose of romance and sentimentality, part feminist tract, Private Benjamin goes stonking well until it begins to drag a little when Hawn leaves camp and heads off to Europe. But, overall, it is generally amusing, warm hearted and often extremely funny.
Hawn may be the movie's chief delight but she has strong competition in Brennan, who is hilarious as Captain Doreen Lewis.
There is some nudity and explicit language.
Also in the notable cast are Robert Webber, Sam Wanamaker, Barbara Barrie, Mary Kay Place, Harry Dean Stanton, Albert Brooks, P J Soles, Alan Oppenheimer, Sally Kirkland, Craig T Nelson, Hal Williams and Damita Jo Freeman.
Nancy Meyers, Charles Shyer and Harvey Miller are the witty Oscar-nominated writers, who also produce the film with Hawn. It was the first screenplay specially written for her. Five months pregnant with daughter Kate Hudson, and divorcing Bill Hudson, she told Meyers: 'You write the damned thing and I'll produce it.'  It is Hawn's first film as a producer: 'I didn't plan on becoming a producer. I only wanted to create better roles for myself, and I loved the idea of Private Benjamin so much that I felt it would be the perfect opportunity finally to control my own destiny.'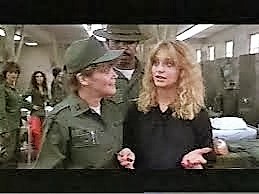 During the shoot Hawn arrived early in the morning before the crew and stayed late at nights to work on advertising and publicity, and was heavily involved in the casting.
Hawn underwent boot camp training for six weeks. The Burbank Studio built nearly 100 sets for the production. Off-duty service personnel were used as extras.

Subtly, the poster parodies the one for All Quiet on the Western Front (1930).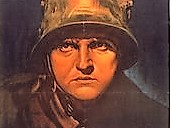 The movie spawned a TV series (1981 to 1983), in which Brennan and Hal Williams reprised their roles of Captain Doreen Lewis and Sergeant L.C. Ross. Damita Jo Freeman also reprised her role, but her character was changed from Private Gloria Moe to Private Jackie Sims.
© Derek Winnert 2016 Classic Movie Review 4059
Check out more reviews on http://derekwinnert