Pride of the Marines ***½ (1945, John Garfield, Eleanor Parker, Dane Clark, Ann Doran, John Ridgely) – Classic Movie Review 4763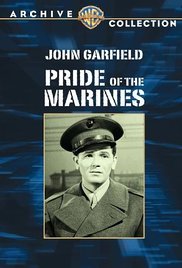 Co-writer/ director Delmer Daves's 1945 biographical war drama film tells the true-life story of Al Schmid (John Garfield), the American Marine war hero blinded by a grenade while holding off the Japanese against impossible odds in a heroic stand in the Battle of Guadalcanal. He returns to America to be rehabilitated and adjusts to his civilian life with the help of his soon-to-be wife Ruth Hartley (Eleanor Parker).
The confident, morale-boosting screenplay by Daves, Albert Maltz and Marvin Borowsky, based on the book Al Schmid, Marine by Roger Butterfield, tells clearly how Schmid tries to come to terms with his infirmity. Maltz was nominated for an Academy Award for Writing Adapted Screenplay. Borowsky did the adaptation and Daves was uncredited, so Maltz got a solo nomination.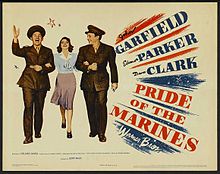 The solid Warner Bros production and impressive acting, particularly from John Garfield, Eleanor Parker, Dane Clark, Ann Doran and John Ridgely, make up for rather simplistic, unrealistic handling, with a tendency towards clumsy patriotism that was understandable at the time of World War Two.
But, despite its faults, it is still an often-engrossing experience, in a caring and thoughtful combination of human and political drama.
Also in the cast are Rosemary DeCamp, Ann E Todd, Warren Douglas, Don McGuire, Tom D'Andrea, Rory Mallinson, Mark Stevens, Anthony Caruso, Moroni Olsen, William Haade, Dick Rick, John Miles, John Compton, John Sheridan, John Miles, Truman Bradley, Bud Wolfe, Dave Willock, Charles Sherlock, Harry Shannon, George Reed, Mary Gordon, Michael Browne and Leonard Bremen.
John Compton, who plays a corporal, died on May 12 2015, aged 91.
© Derek Winnert 2016 Classic Movie Review 4763
Check out more reviews on http://derekwinnert.com