Pretty Woman ****½ (1990, Richard Gere, Julia Roberts, Ralph Bellamy, Jason Alexander, Laura San Giacomo, Hector Elizondo) – Classic Movie Review 2012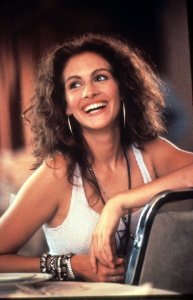 Director Garry Marshall's scintillating romcom blockbuster is a good old-fashioned romantic comedy with a few 1990 trimmings, and was the surprise number-one hit of its year. Its continuing popularity is shown by listeners of Capital FM in London voting it the number 4 must-see movie of all time.
Richard Gere stars as Edward Lewis, a lonely, ruthless Los Angeles corporate mogul who gets rich through his cynical speciality in taking over companies and selling them off piecemeal. While out driving, he unwittingly picks up a tart-with-a-heart, prostitute Vivian (Julia Roberts). When he finds out her business, he hires her for $3000 for a week as a stand-in girlfriend for business reasons as his escort at society parties and polo matches, and transforms her, Professor Higgins-style, from trashy to classy with the help of a Rodeo Drive shopping spree. (The movie was originally titled 3000 after the duo's money deal.)
[Spoiler alert] So, the fairy tale ends with the love of a pretty woman turning Edward into his inner good guy who, instead of breaking up and selling it off piece by piece, decides to save the ailing company of nice old businessman James Morse (Ralph Bellamy in his final movie).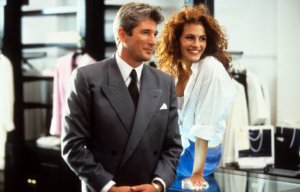 It's to their huge credit that Gere, smashing in smart suits, already greying hair and in a comedy for a change, and the stunning Roberts make this preposterous fantasy utterly beguiling. The duo share great on-screen chemistry together. Ideal though Gere is, it was Roberts who really triumphed, gaining her second Oscar nomination in probably her best performance, apart maybe from Erin Brockovich.
The movie is shrewdly and freshly directed by Marshall, who has a winning way with J F Lawton's familiar-feeling screenplay that allegedly circulated unwanted throughout Hollywood before he took it on. Familiar it may be, but it is also very adroit in its final form, with Lawton's original script contributed to by Robert Garland, Stephen Metcalfe and Barbara Benedek. The escapist romcom fantasy story is carefully handled so as not to be taken seriously, as some feminist critics did, finding it offensive.
Also in the cast are Laura San Giacomo, Hector Elizondo, Alex Hyde-White, Elinor Donahue, Larry Miller and Jane Morris.
The title song is the vintage classic sung by Roy Orbison. The stars re-teamed in 1999 for Runaway Bride.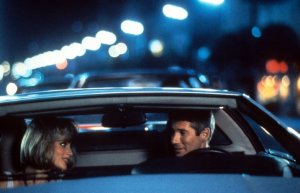 With a 15 certificate, it is a sophisticated film for grown-ups, with some swearing and sexual situations.
Director Garry Marshall says: 'Julia Roberts was young, but just fearless, and she was obviously popping off the screen. Watching her grow up has been one of my pleasures.'
Siding with the feminists, Molly Ringwald turned the Vivian role down because she felt uncomfortable with the content in the script and did not like the idea of playing a prostitute. And Daryl Hannah also turned down the part because she felt it denigrated women.
The movie was written as a dark drama about prostitution in Los Angeles, with controversial themes, including Vivian being addicted to cocaine and part of her deal with Edward that she had to stay off it for a week.
Roberts was Oscar nominated as Best Supporting Actress for Steel Magnolias (1989) and August: Osage County (2013) and won Best Actress for Erin Brockovich (2000).
Garry Marshall died on aged 81. He was known for The Flamingo Kid, Overboard, Beaches, Pretty Woman (1990), The Princess Diaries (2001), Raising Helen, Valentine's Day and Mother's Day (2016). A man who worked tirelessly in TV and movies for 55 years said: 'There is more to life than show business.' Marshall has worked with actor Elizondo on every film he's ever made, whether in a major or minor supporting role or  an uncredited cameo.
© Derek Winnert 2014 Classic Movie Review 2012
Check out more reviews on http://derekwinnert.com/