Presenting Lily Mars *** (1943, Judy Garland, Van Heflin, Fay Bainter, Richard Carlson, Marta Eggerth, Spring Byington, Bob Crosby, Tommy Dorsey) – Classic Movie Review 5182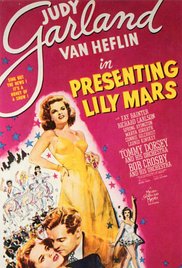 Director Norman Taurog's 1943 musical comes with the kudos of presenting Judy Garland, aged 19, in a cute and amiable small-time MGM show with an attempt at extra added class, which only proves a few pretensions above its humble station.
Richard Connell and Gladys Lehman's screenplay is based on the novel by Booth Tarkington, a property originally earmarked for Lana Turner. It tells the familiar, old (even in 1943) story of a stagestruck Indiana small-town gal desperate to tread the boards on the Broadway stage.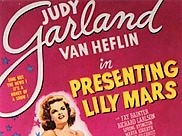 Though he is not Garland's best ever co-star, Van Heflin has his moments as the New York producer John Thornway, whom Garland's Lily Mars hounds, until he gives her a job. Soon enough, they fall in love and the show's star (Marta Eggerth) quits.
Fay Bainter as Mrs Thornway, Richard Carlson, Spring Byington, Bob Crosby and his Orchestra, Tommy Dorsey and his Orchestra, Marilyn Maxwell, Connie Gilchrist and Leonid Kinskey are also in the good cast. But it is Judy's show all the way and the MGM studio gives her some attractive tunes to sing, like 'Every Little Movement (Has a Meaning of its Own)' (Karl Hoschna music, Otto Harbach lyrics), Where There's Music, Three O'Clock in the Morning and Broadway Rhythm.
Taurog directs amusingly, Ernst Matray is the capable dance director, with the climax staged by choreographer Charles Walters in a different, more extravagant style. Cinematographer Joseph Ruttenberg shoots it nicely, but it is a bit of a shame that it is black and white.
© Derek Winnert 2017 Classic Movie Review 5182
Check out more reviews on http://derekwinnert.com