Point of No Return [The Assassin] ** (1993, Bridget Fonda, Gabriel Byrne, Miguel Ferrer, Anne Bancroft, Olivia D'Abo, Harvey Keitel, Dermot Mulroney) – Classic Movie Review 6030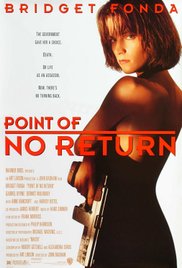 Bridget Fonda stars as Maggie Hayward, a drug-addicted killer saved from execution by a government agency, when top-secret US government agent Bob (Gabriel Byrne) arranges a staged death for her,  and is trained as a top assassin.
Director John Badham's 1993 American remake of Luc Besson's superior 1990 French thriller Nikita [Le Femme Nikita] is very slick but it suffers from a continual lack of conviction and credibility. It starts with the way too stylish and classy young star Bridget Fonda, who just is not believable as a low-class, violent, streetwise punk drug addict.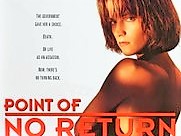 However, Gabriel Byrne is more persuasive as her agency boss Bob and both Anne Bancroft and Harvey Keitel deliver choice star cameos as Amanda and Victor the Cleaner (Jean Reno's role in the original).
In the second half, Badham's flair for action delivers some solid genre thrills. But this remains a surprisingly ordinary film, given the exceptional nature of the original material. It is all polished slickness when what is really needed is a movie living on its raw nerves.
Also in the cast are Dermot Mulroney, Miguel Ferrer, Olivia D'Abo, Richard Romanus, Lorraine Toussaint, Geoffrey Lewis, Mic Rodgers and Michael Rapaport.
It is written by Robert Getchell and Alexandra Seros, shot by Michael Watkins, produced by Art Linson and scored by Hans Zimmer.
It is rated R for strong violence, and for strong language and sexuality.
© Derek Winnert 2017 Classic Movie Review 6030
Check out more reviews on http://derekwinnert.com