Pirates of the Caribbean: The Curse of the Black Pearl **** (2003, Johnny Depp, Geoffrey Rush, Orlando Bloom, Keira Knightley, Jonathan Pryce) – Classic Movie Review 186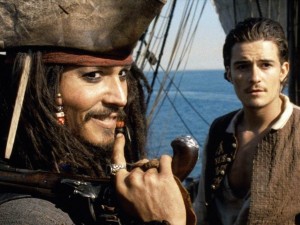 Worryingly basing his vocal performance on an impersonation of Keith Richards and his appearance on a mascaraed drag queen, Johnny Depp is as camp as Christmas as boisterous buccaneer Jack Sparrow in director Gore Verbinski's extraordinarily jolly 2003 pirate romp, based on the Disneyland ride. It was an amazing, runaway success, taking more than $305 million as the US box office, prompting three lesser sequels so far.
Sparrow is out to get the wicked Captain Barbossa (Geoffrey Rush), his first mate who deserted him on an island after they had nabbed some Aztec gold. But Barbossa and his men are cursed: the moonlight shows they are but a bag of bones. Sparrow is forced to team up with blacksmith Will Turner, whose quest is to save his true love, the governor's daughter, Elizabeth Swann, from Sparrow's former pirate buddies, now, as you see, pretty much undead.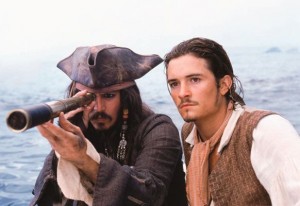 Depp and Rush triumphantly turn overacting into an art form, while Orlando Bloom is a dashing hero as Depp's nimble sidekick, and Keira Knightley makes a sweet, feisty heroine as the lovely daughter of stuffy governor Weatherby Swann (Jonathan Pryce).
I'm afraid Pryce is as stiff as a board, but most of the other actors have the spoofy style just right. Jack Davenport's Norrington, Lee Arenberg's Pintel and Mackenzie Crook's Ragetti get it just right.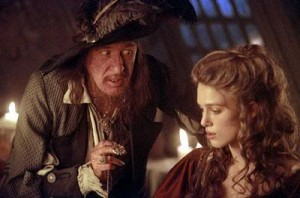 Jerry Bruckheimer's production is lavish, as you'd expect for a movie that cost $140million back in 2003, and Gore Verbinski's direction is impressive and sometimes very imaginative, especially visually. The unsubtle but effective score by Klaus Badelt and Hans Zimmer bashes the action and comedy relentlessly along. So, three cheers, me hearties, for bags of swashbuckling action, lots and lots of yo-ho-ho adventure – and maybe even a bottle of rum (if only, you'll have to bring your own).
It was nominated for five Oscars, but won none. At least Depp and his makeup, and the striking visuals effects were noticed.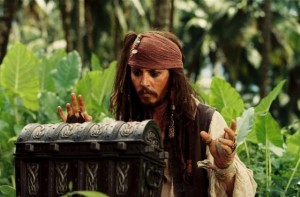 This finally put an end to the pirate curse on pirate movies, with Roman Polanksi's Pirates (1986) with Walter Matthau and Cutthroat Island (1995) with Geena Davis both notorious box-office failures.
Sequels: Pirates of the Caribbean: Dead Man's Chest (2006), Pirates of the Caribbean: At World's End (2007), Pirates of the Caribbean: On Stranger Tides (2011). Richards was finally persuaded to appear as Captain Teague in the last two.
©Derek Winnert 2013 Classic Film Review 186
Check out more reviews on derekwinnert.com