Pink Flamingos *** (1973, Divine, David Lochary, Mink Stole, Mary Vivian Pearce) – Classic Movie Review 4097)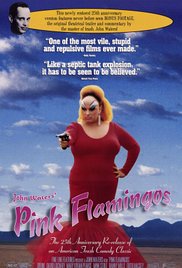 'We'll see who's the filthiest person alive! We'll just see!' – Connie Marble.
Writer-director-cinematographer John Waters's shocking, divinely decadent early 1973 movie is gleefully cheap, cheerful and amateurish in the Andy Warhol vein, and showcases an outrageous star turn by his friend, the divine Divine (real name Glen Milstead).
Sleaze queen Divine plays the 'filthiest person alive' — and that means filthy — who lives in a caravan with her crazy hippie son Crackers (Danny Mills) and her 250lb mother Mama Edie (Edith Massey). The plot has Divine fighting it out for the accolade 'filthiest person alive' with her challengers, the Marbles, Connie and Raymond (Mink Stole, David Lochary), a couple who impregnate female hitchhikers and sell the babies to lesbian couples.
A full-on mix of absurd and gross-out humour, this ultra-bad taste camp classic from the then outrageous gay director John Waters is hilarious for those depraved enough to share its absolutely disgusting and revolting sense of humour. Those with delicate sensibilities beware – you'll need a strong stomach for Pink Flamingos and its comedy take on a wide range of perversions shown in explicit detail.
Also in the cast are Mary Vivian Pearce, Cookie Mueller, Paul Swift and Channing Wilroy.
See also Female Trouble and Desperate Living.
© Derek Winnert 2016 Classic Movie Review 4097
Check out more reviews on http://derekwinnert