Pink Cadillac *** (1989, Clint Eastwood, Bernadette Peters, Timothy Carhart, Geoffrey Lewis, William Hickey) – Classic Movie Review 4096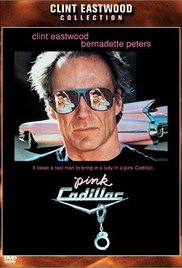 Director Buddy Van Horn's engaging laid-back 1989 adventure comedy stars Clint Eastwood as Tommy Nowak, a wrinkly California bounty hunting bail-bondsman (or 'skip-tracer') who goes out of his way to befriend his current victim Roy McGuinn (Timothy Carhart)'s troubled wife Lou Ann (Bernadette Peters). McGuinn and his neo-Nazi friends are after Lou Ann for taking their counterfeit money.
Eastwood puts on lots of funny disguises and falls for Peters as he assists her in getting her baby (the Robinson twins, Tiffany Gail and Angela Louise) back from her criminal husband and his fascist buddies.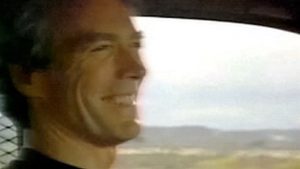 It runs a rambling 122 minutes, so tighter, shorter and subtler would have been better. But this thick-ear comedy is pleasantly played and agreeably easy-going for all that. Clint, in laid-back Every Which Way But Loose mode, gives a genial, knockabout performance and he is nicely matched with the charming Peters and her kookie appeal. The rapport between the two contrasting stars is most appealing and it motors the film, keeping the show on the road, even when John Eskow's screenplay gets slack and meanders.
All in all it is quite sweet, though that is not Eastwood's flavour, and his fans rejected it and it was not a hit in cinemas, though it plays well and is popular now on TV.
Also in the cast are John Dennis Johnston, Michael Des Barres, Geoffrey Lewis, William Hickey and Jim Carrey (as lounge entertainer), who was also in the previous year's Eastwood movie The Dead Pool.
© Derek Winnert 2016 Classic Movie Review 4096
Check out more reviews on http://derekwinnert