Pimpernel Smith **** (1941, Leslie Howard, Mary Morris, Francis L Sullivan, Hugh McDermott, Raymond Huntley) – Classic Movie Review 5435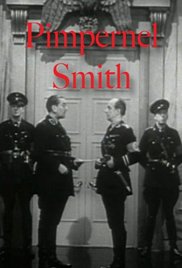 Producer/ director/ star Leslie Howard takes the Scarlet Pimpernel character into World War Two in his witty and exciting 1941 film reworking, with the director-star himself returning to one of his most famous roles in his Thirties classic The Scarlet Pimpernel (1935).
Apart from Howard's attractive performance as Professor Horatio Smith, a mild-mannered, apparently dizzy archaeology lecturer determinedly saving people hounded by the Nazis, there are notable portraits in villainy from Francis L Sullivan as rotund German general von Graum and Raymond Huntley as the supercilious Marx.
Mary Morris grabs one of her best chances to give one of her finest turns as Ludmilla Koslowski.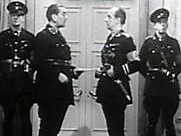 Written by Anatole de Grunwald, Roland Pertwee and Ian Dalrymple, this is a most clever, effective and satisfying use of the old Scarlet Pimpernel story from the novel by Baroness Emmuska Orczy (uncredited). A G Macdonell and Wolfgang Wilhelm are credited for the original story.
Also in the cast are Hugh McDermott, Manning Whiley, Peter Gawthorne, David Tomlinson, Allan Jeayes, Dennis Arundell, Joan Kemp-Welch, Philip Frend, Roland Pertwee, A E Matthews, Michael Rennie, Laurence Kitchin, Basil Appleby, Percy Walsh, Aubrey Mallalieu, Ernest Butcher, Hector Abbas, Oriel Ross, George Street, Arthur Hambling, Suzanne Clair, Roddy Hughes, Mary Brown, W Phillips, Ernest Verne, Richard George, Hwfa Pryce, Brian Herbert, Neal Arden, Elwyn Brook-Jones and Ronald Howard.
It is also known as Mister V: The Fighting Pimpernel.
© Derek Winnert 2017 Classic Movie Review 5435
Check out more reviews on http://derekwinnert.com