Phantom of the Paradise **** (1974, Paul Williams, William Finley, Jessica Harper, George Memmoli, Gerrit Graham) – Classic Movie Review 4433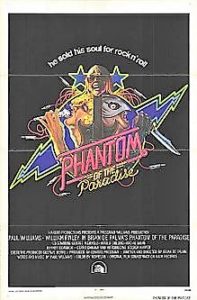 Writer-director Brian De Palma's technically imaginative 1974 film revision of The Phantom of the Opera updates the horror old story to modern-day America and the pop scene of the early Seventies, turning it into a Rocky Horror Picture Show-style rock musical.
William Finley plays disfigured composer Winslow Leach, who writes his music for Phoenix (Jessica Harper), a woman he loves so that she will perform his music. But record producer Arnold Philbin (George Memmoli) betrays him and steals his music to open his rock palace called The Paradise. The composer puts on a new appearance and avenges himself on the producer.
De Palma's exuberant, tongue-in-cheek screenplay plays knowingly on the conventions of horror films and musicals, gleefully also chucking in bits from Oscar Wilde's The Picture of Dorian Gray and Faust legend. And the performers/actors Paul Williams, William Finley, Jessica Harper, George Memmoli and Gerrit Graham know just how far over the top to take their camp performances.
The movie is an endearingly scrappy but often funny and intelligent musical satire, with moments of effective typical De Palma-style fear added in.
There is some violence, most of it played for laughs, and adult sexual content.
Paul Williams stars as Swan and was also Oscar- and Golden Globe-nominated for writing the fun score which includes 'Somebody Super Like You', 'Upholstery', 'Faust', 'The Hell of It' and 'The Phantom's Theme'. William Finley also stars as Winslow Leach aka The Phantom, with Williams as The Phantom's singing voice. It also stars Jessica Harper as Phoenix, George Memmoli as Arnold Philbin and Gerrit Graham as Beef. Other key contributors are cinematographer Larry Pizer and production designer Jack Fisk.
Surprisingly it flopped at the box office and was generally liked only for its music, though it quickly became a cult favourite and now it is generally, and rightly, much admired. The film's only successful major market during its original release was Winnipeg, Canada.
The name Arnold Philbin is a tribute to Mary Philbin who starred as Christine in the 1925 The Phantom of the Opera.
© Derek Winnert 2016 Classic Movie Review 4433
Check out more reviews on http://derekwinnert.com