Perfect Friday *** (1970, Stanley Baker, Ursula Andress, David Warner, T P McKenna, Patience Collier) – Classic Movie Review 5855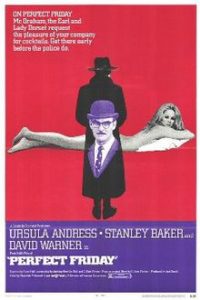 Director Peter Hall's amusing 1970 British bank-heist caper thriller is a bright straggler from the Sixties about bored and bent London West End assistant bank manager Mr Graham (Stanley Baker), and the rich titled married couple Lady Britt Dorset and Lord Nicholas Dorset (Ursula Andress, David Warner) he meets and gets to help him to steal £300,000 from his own bank.
On the manager's day off playing golf, Lord Dorset poses as a bank inspector and substitutes counterfeit money for the real stuff, putting the real money in Lady's Britt's safety box for her to pick up.
The movie's effect is slightly fudged by the plodding handling of its surprising director – the Seventies British National Theatre boss Hall – though he does encourage classy turns from his posh cast and give it a polished veneer.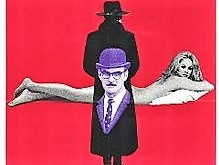 Written by Anthony Greville-Bell and C Scott Forbes from an original story by C Scott Forbes, the tale teases and twists pleasingly, however, and the star playing of the eccentric central characters sparkles.
Though it has faded a little with age, it is still a satisfying entertainment for the many fans of the bank heist or caper thriller genres.
Also in the cast are Patience Collier, T P McKenna as Smith, David Waller, Joan Benham, Julian Orchard, Johnny Briggs, Trisha Mortimer, Anne Tirard, Fred Griffiths, Sidney Jennings, Hugh Halliday, Max Faulkner, Carleton Hobbs, Eric Longworth, Brian Peck, Howard Lang, Patrick Jordan, Malcolm Johns. Garfield Morgan, Derek Cox, Barbara Ogilvie and Georgina Simpson.
It is shot by Alan Hume, produced by Dimitri de Grunwald and Jack Smith, scored by Johnny Dankworth, and designed by Terence Marsh.
Producer de Grunwald set up the International Film Consortium, a new production and distribution consortium, a world-wide co-op of independent film distributors, to raise finance for films produced by London Screenplays Ltd – also including The McMasters, The Virgin and the Gypsy, The Last Grenade and Connecting Rooms.
Baker said: 'What I like about Perfect Friday is that everybody lies to each other and everybody believes each other's lies. I don't know if the audience realises it, but every time the characters speak to each other, they're lying.'
David Warner also stars in Peter Hall 's Work Is a Four-Letter Word.
RIP theatre giant Sir Peter Hall, who died on 11 aged 86.
© Derek Winnert 2017 Classic Movie Review 5855
Check out more reviews on http://derekwinnert.com