Pépé le Moko ***** (1937, Jean Gabin, Mireille Balin, Gabriel Gabrio, Saturnin Fabre, Lucas Gridoux, Gilbert Gil, Line Noro) – Classic Movie Review 4298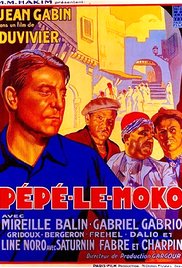 In one of his most famous parts, Jean Gabin lights up the screen as Paris gangster Pépé le Moko, who hides out from the law in the Casbah in Algiers but gets arrested when leaving the criminal ghetto for a beautiful visiting Paris femme fatale, Gaby (Mireille Balin). Lucas Gridoux plays the dogged detective Inspector Slimane, on the trail of Pépé.
With its lavish displays of passion, doom, gloom, poetry and sheer Frenchness, this superb 1937 film is a great credit to co-writer/ director Julien Duvivier, whose mastery of mood and feeling is perfect.
Yet it is remembered best as Gabin's great triumph, and is unfairly overshadowed outside France by the Hollywood remake, Algiers (1938), with Charles Boyer. It shines out as one of the outstanding films of its period and is still an unchallengeable cinema masterwork.
Also in the cast are Gabriel Gabrio, Lucas Gridoux, Gilbert Gil, Line Noro, Saturnine Fabre, Fernand Charpin, Marcel Dalio, Charles Granval, Gaston Modot, René Bergeron, Paul Escoffier, Roger Legris, Jean Témerson, Robert Ozanne, Philippe Richard, Fréhel, Georges Péclet, Olga Lord and Renée Carl.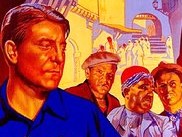 Duvivier, Jacques Constant and Henri Jeanson write the screenplay, adapting the novel by Henri La Barthe (writing as as Detective Ashelbe).
It was also made again as Casbah (1948) with Tony Martin, Yvonne De Carlo and Peter Lorre.
© Derek Winnert 2016 Classic Movie Review 4298
Check out more reviews on http://derekwinnert.com