Papillon **** (1973, Steve McQueen, Dustin Hoffman, Victor Jory) – Classic Movie Review 2967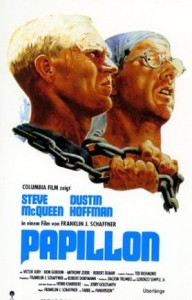 Director Franklin J Schaffner's 1973 prison drama stars a suitably gaunt-looking Steve McQueen as Henri 'Papillon' Charrière – the symbolic Butterfly of the story – in this long and expensive version of the best-selling novel by real-life escaped prisoner Henri Charrière.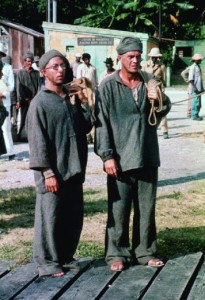 McQueen's intense, powerfully controlled performance is matched by the tightly coiled, nervous stoicism of co-star Dustin Hoffman's forger character Louis Dega, the fellow prisoner he meets on board ship to prison and bonds with. Sentenced to life in prison, Charrière is transported to the horrific penal colony in French Guyana, from which he desperately wants to escape. The punishment for this is years in solitary confinement but Papillon is desperate.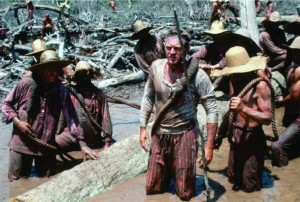 Fred Koenekamp's cinematography is perfect, the Devil's Island prison never looked grimmer, the story enthrals and a long epic movie of 151 minutes just whizzes by. The screenplay is by blacklisted writer Dalton Trumbo and Lorenzo Semple Jnr, with input by William Goldman.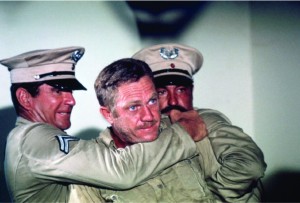 Also in the cast are Victor Jory, Don Gordon, Anthony Zerbe, George Coulouris, Woodrow Parfrey, Bill Mumy, Ratna Assan, William Smithers, Val Averym Gregory Sierra, Vic Tayback and Robert Deman.
The huge 800ft prison set was built near Falmouth on the north shore of Jamaica after two years of research by production designer Anthony Masters.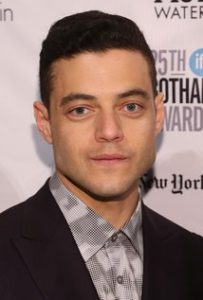 Rami Malek and Charlie Hunnam are to star in a remake, shooting in September 2016, directed by Michael Noer from a script by Prisoners writer Aaron Guzikowski.
© Derek Winnert 2015 Classic Movie Review 2967
Check out more reviews on http://derekwinnert.com