Pan *** (2015, Hugh Jackman, Levi Miller, Garrett Hedlund, Rooney Mara, Cara Delevingne, Amanda Seyfried, Paul Kaye, Kathy Burke) – Movie Review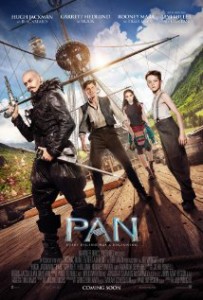 Director Joe Wright's prequel story of an English orphan boy who is spirited away to the magical Neverland, where he looks for his long-lost mother and finds both fun and danger, is brisk, pleasant and easy-going. But the film lacks some awe. It has got many good things going for it, especially its good spirit, but it hasn't got the wow factor.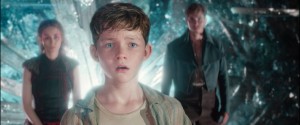 It starts by saying that every story must have a back story, but, sorry, this just isn't true. It's advertised as 'the untold story of the timeless legend' but this movie is all about why J M Barrie never wrote this origins story himself. Obviously it's hard to come up with a new Peter Pan story, and there are already excellent animation Peter Pan (1953) and live-action Peter Pan (2003) movies of it, but Jason Fuchs's screenplay is disappointingly thin and not really sparky, inventive or original enough.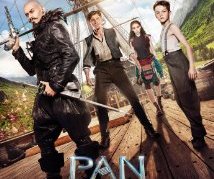 This seems to encourage Joe Wright to go overboard with the CGI, over-inflating the scale of everything so nothing seems of human or even fairy size. It would just be so nice to have this movie without any CGI at all, apart from the short sequence at the end when Pan gets up the nerve to fly to save his friend. How good would that have been?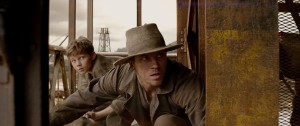 However, with the release pushed back from June to October 2015, there was more time to work on editing and visual effects during post-production, and this shows in the slickness and polish of the finished film.
Yet, there can be too much of a good thing. The score pounds relentlessly on, with Wright seeming too nervous to trust his story, visuals or set pieces. We're awake, we don't need this music at this level to keep us from slumber.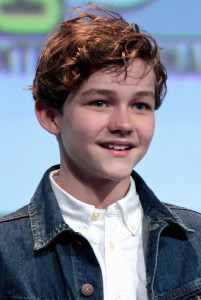 Nevertheless, the 12-year-old Levi Miller proves a little star as Pan, filling the role with personality and conviction, while top-billed Hugh Jackman enjoys himself enormously in an effectively self-indulgent pantomime turn as the scary pirate Blackbeard (Blackbeard in Peter Pan?). Jackman outdoes Johnny Depp in man mascara and pirate campery. He may not be more fun than Depp in Pirates of the Caribbean, but he is lots of fun. Garrett Hedlund's Hook, in his younger pre-Captain Hook days, looks right and cuts a dash, but why does he have to be American, access Indiana Jones and talk so deliberately?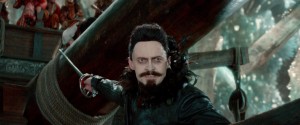 Rooney Mara's love interest / substitute mother figure Tiger Lily, Cara Delevingne's Mermaid and Amanda Seyfried's Mary Darling are all just decorative. And Adeel Akhtar as Smee and Paul Kaye's Mutti Voosht are boring. But Kathy Burke does a grand job of orphan home villainess, Mother Barnabas. Lewis MacDougall, star of 2016, A Monster Calls, plays Nibs.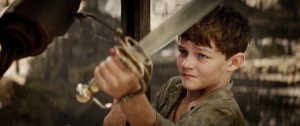 Underwhelming it may be, but there is enough old-fashioned entertainment value for traditionally minded youngsters, though Peter Pan swears ('Who the bloody hell am I?') and there's lusty PG-style fantasy action violence and some grown-up thematic material. It's always lively, busy and diverting, and never boring, so if the kids want a break during the movie, they'll be likely to miss some good stuff.
It was made at Leavesden Studios, Leavesden, Hertfordshire, England.
Introducing Pan to its first public preview audience on 19 September 2015 at the Odeon, Leicester Square, London, director Wright said this cinema was where he saw his first film, at the age of six – Close Encounters of the Third Kind. It terrified him and he was spending his film-making career working through the fear. Good story!
Steven Spielberg's 1991 Hook, with Dustin Hoffman, Robin Williams and Julia Roberts, is not a great film but it is fondly remembered.
http://derekwinnert.com/peter-pan-1953-walt-disney-classic-movie-review-1416/
http://derekwinnert.com/peter-pan-classic-film-review-789/
http://derekwinnert.com/hook-1991-robin-williams-dustin-hoffman-bob-hoskins-julia-roberts-classic-movie-review-1421/
© Derek Winnert 2015 Movie Review
Check out more reviews on http://derekwinnert.com