Pals of the Saddle **½ (1938, John Wayne, Ray Corrigan, Max Terhune, Doreen McKay) – Classic Movie Review 4674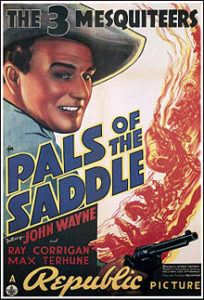 Director George Sherman's 1938 Western is a modest and moderate John Wayne filler movie for Republic Studios, made under his old contract just before he had hit the big time with Stagecoach (1939). It is the first of Wayne's eight appearances as Stony Brooke in the 51-film Three Mesquiteers series, followed by Overland Stage Raiders (1938).
Wayne stars as William Colt MacDonald's character Stony Brooke, who is soon in deadly trouble after government secret service agent Ann (Doreen McKay) gets him to take over from her dead co-agent to stop a deadly chemical falling into enemy hands.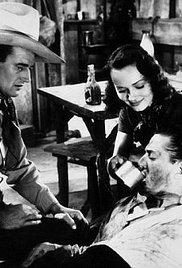 Modest, unexceptional and unsurprising though it is, it is briskly handled, quick moving and comfortably short at 55 minutes, however, and Wayne's lively performance is a strong asset.
Also in the cast are Ray Corrigan as Tucson Smith, Max Terhune as Lullaby Joslin, Doreen McKay, George Douglas, Frank Milan, Harry Depp, Ted Adams, Joseph Forte, Jack Kirk, Bob Burns, Art Dillard, Curley Dresden, Olin Francis, Monte Montague and George Montgomery.
It is written by Betty Burbridge and Stanley Roberts, shot in black and white by Reggie Lanning, produced by William A Berke and scored by Cy Feuer.
© Derek Winnert 2016 Classic Movie Review 4674
Check out more reviews on http://derekwinnert.com