Pain & Gain **** (2013, Mark Wahlberg, Dwayne Johnson, Anthony Mackie) – Movie Review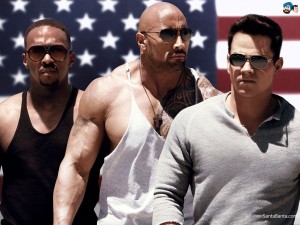 Mark Wahlberg, Dwayne Johnson and Anthony Mackie star as three ambitious but dim Miami bodybuilders just living the American dream in the nineties – kidnapping, torture, extortion, murder and hacking up of body parts. Goodfellas meets Scarface meets Boogie Nights, it's brilliantly filmed in dazzling high style by Michael Bay.
An action comedy, with its tone veering wildly between slapstick and nasty violence, Pain & Gain is extremely well done, often shockingly so. It's exuberantly acted, and totally in your face, but obviously it's not exactly a charm fest. It's a bit worrying that it's about real people, two of whom were sentenced to death by those nice Florida authorities. The same ones who executed female serial killer Aileen Wuornos in 2002 (portrayed by Charlize Theron in her 2004 Oscar-winning role of Monster).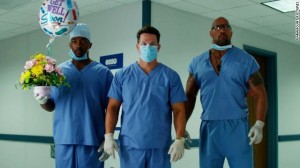 It's also worrying that it's so charismatically played by the impressively bulked-up Wahlberg (as real-life Sun Gym gang mastermind Daniel Lugo), Johnson (Paul Doyle, a fictional amalgam of various real characters) and Mackie (sadistic henchman Noel Doorbal) as the bodybuilders on the make that it seems to celebrate the lives of these scary psycho killers. Whatever they do on screen, you can't help liking them. That's very troubling. It might have been better if these weren't real lives, and it was just a cynical, violent caper. Then again, maybe not. It makes the movie about something, one that provokes thought and debate after the entertainment is over.
I can't say that these are very nice people at all, and I'm truly glad I never met them in real life. But I have to say that, whatever else, capital punishment is surely a stain on civilised society. (Pause for thought.)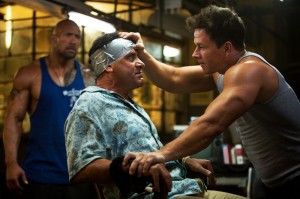 Nevertheless, it's only a movie and it's a huge lot of fun watching Wahlberg and Johnson on screen and doing their stuff. However, somehow the film has a lack of a moral centre. Where are the good folk in Miami? Are there any? It's all Miami vice and not Miami nice. Probably the Miami New Times magazine articles the screenplay was based on were serious pieces of journalism. Even so, it's a great popular-press story, quite sensational, and that's it's dubious fascination here.
The screenplay by Christopher Markus and Stephen McFeely takes that story and runs with it, into the realms of the action movie and what feels like fantasy. When you see the film, it seems to be telling you the facts. Later, reading about it, we discover that they've played fast and loose with many of the facts of the story. So it really is only a movie and you can't trust it for the truth.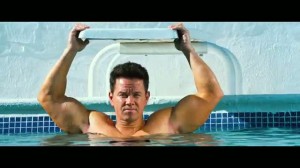 Michael Bay's heart-pounding, head-thumping direction does the rest. He's back in the low-budget cynical Bad Boys and The Rock era of the nineties rather than the huge-budget family-friendly days of his Transformers movies. It's a personal project he's been trying to get off the ground since 2000, continually put on the back burner by the lucrative Transformers franchise. His direction's got a surprisingly young and vibrant, fired-up feel to it. It's not subtle (he directed Armageddon!) but it really works a treat here. Very impressive, Mr Bay.
Wahlberg and Johnson, both stars currently on a remarkable roll, are really great, giving winning, complex, detailed performances. And bringing in some more real acting muscle, Tony Shalhoub and Ed Harris are outstanding in support as the kidnap victim the gang torture and the detective he hires on the case. It's good that both have plenty to do. They deserve it.
I don't think I should have enjoyed this film as much as I did. Maybe it can go down as a guilty pleasure or just as some pretty great, thrilling filmmaking.
© Derek Winnert 2013 Movie Review
Check out more reviews on http://derekwinnert.com/