Overboard **** (1987, Goldie Hawn, Kurt Russell, Edward Herrmann, Katherine Helmond, Roddy McDowall, Hector Elizondo) – Classic Movie Review 4057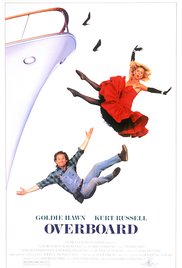 At the risk of going overboard, director Garry Marshall's sparkling 1987 comedy is one of Goldie Hawn's funniest movies. The star lights up the screen with her comic charisma as an arrogant rich bitch who gets her comeuppance after she mistreats a chippy carpenter called Dean Proffitt (Kurt Russell) when he goes to work for her.
Joanna hires Dean to build a closet on her yacht and, when they fall out, Dean is left unpaid and Joanna sets sail. But Russell takes his revenge when Goldie falls off her yacht and loses her memory, claiming her as his wife, the mother of his four uncontrollable sons. So Dean ends up with a free housekeeper and mother for his kids.

The real-life star couple make a big splash in extremely appealing performances, with Russell matching Hawn's effortless-seeming adroitness with the comedy.
Leslie Dixon's lighthearted screenplay is full of effective sequences with only a few duff bits, and director Marshall (Pretty Woman) knows exactly how to time the laughs. This old-fashioned romantic comedy is consistently amusing and great fun, and has that rare magic lightness of touch that makes audiences just go overboard for it.
Also in the cast are Edward Herrmann, Katherine Helmond, Roddy McDowall, Michael Hagerty, Jeffrey Wiseman, Garry Marshall and Hector Elizondo.

Twice married, Hawn has been in a relationship with Russell since 1983. As of 2016, her most recent film is The Banger Sisters in 2002. She won the 1970 Best Supporting Actress Oscar for Cactus Flower.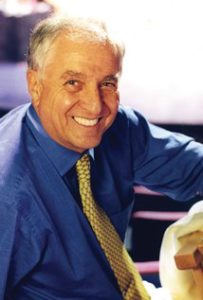 Garry Marshall died on July 19 2016, aged 81. The brilliant comedy writer-director, who worked tirelessly in TV and movies for 55 years, directed The Flamingo Kid, Overboard, Beaches (1988, Pretty Woman (1990), The Princess Diaries (2001), The Princess Diaries 2 (2004) Raising Helen, Valentine's Day (2010) and Mother's Day (2016).
Marshall worked with actor Elizondo on every film he made. Hawn's daughter Kate Hudson stars in Marshall's Raising Helen.
Derek Winnert 2016 Classic Movie Review 4057
Check out more reviews on http://derekwinnert