Out of Season *** (1975, Vanessa Redgrave, Cliff Robertson, Susan George) – Classic Movie Review 6277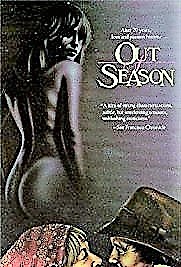 Director Alan Bridges's smart, sensitive and atmospheric but finally slightly unsatisfying British 1975 romantic triangle drama is set in an English winter resort.
The drama is sparked by the expectedly very decent acting from Vanessa Redgrave and Cliff Robertson, whose performances partly make amends for Reuben Bercovitch and Eric Bercovici's rather wordy and messy screenplay. The outpouring of dialogue would probably work well on stage but it works less well on screen. It looks steamy from the adverts but it is a kind of chilly film, as befits its subject.
Robertson plays Redgrave's old flame Joe, who turns up years later as an unexpected guest at middle-aged Ann (Redgrave)'s isolated Marine Hotel to find out that she has got a young adult daughter, Joanna (Susan George, aged 25, playing 19). And, bizarrely perhaps, American lothario Robertson now finds himself the object of both their attentions and affections in a love triangle.
Bridges's film is a bit static and finally unresolved – though admittedly probably deliberately so, certainly in  the case of the ambiguous ending. And if it is sometimes a frustrating experience, the movie is however still in the intriguing category.
Again like many a stage play, there are basically just the three characters, but also in the tiny cast are Edward Evans as Charlie and Frank Jarvis as the Postman.
It is shot by Arthur Ibbetson, produced by Robert Enders, Merv Adelson and Eric Bercovici, scored by John Cameron and designed by Robert Jones.
Bridges replaced Harold Pinter.
It is also known as Winter Rates, the title of the unproduced stage play on which it is based.
It is filmed on Portland, Dorset.
It is Bridges's first movie after his BAFTA and Cannes Palme D'Or winner The Hireling (1973).
© Derek Winnert 2017 Classic Movie Review 6277
Check out more reviews on http://derekwinnert.com