Osmosis Jones *** (2001, Bill Murray, Molly Shannon) – Classic Movie Review 4798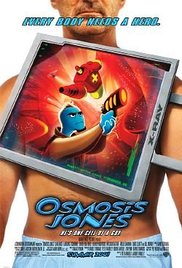 The Farrelly Brothers, Bobby and Peter, cast their beady eyes on the human body in their witty part-animated, part-live-action comedy.
When zoo worker Frank (Bill Murray) catches a cold and suffers a bizarre illness after eating a contaminated egg, cartoons take us on a trip inside his body, where a white blood-cell cop Osmosis Jones (voice of Chris Rock) and a cold-cure pill Drix (voice of David Hyde Pierce) join forces to fight the invading virus.
It may not be hilarious, but this is clever stuff, both amusing and intelligent. And the witty animation is pure state-of-the-art.
It is written by Marc Hyman, shot by Mark Irwin, produced by Bobby Farrelly and Peter Farrelly, scored by Randy Edelman and designed by Sydney J Bartholomew Jr.
It stars Bill Murray Molly Shannon, and also in the cast are Chris Elliott, Elena Franklin, Danny Murphy, Jack McCullough, Kathy Wege, Will Dunn and Jackie Flynn, with the voices of Chris Rock, David Hyde Pierce, William Shatner, Laurence Fishburne, Brandy Norwood, Ron Howard, Kid Rock and Antonio Fargas.
© Derek Winnert 2016 Classic Movie Review 4798
Link to home page for more reviews derekwinnert.com